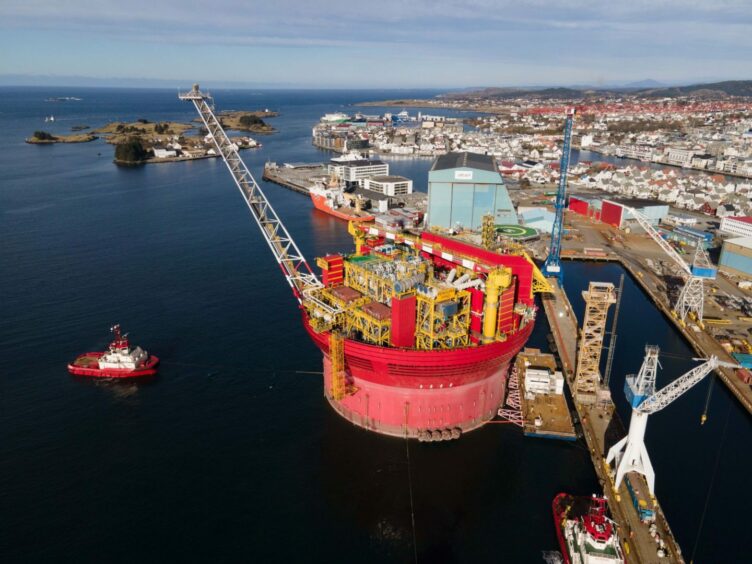 Shell (LON:SHEL) recently restarted operations at the Pierce field in the UK Central North Sea, following this we looked at the other projects that are set to come online this year.
Equinor and Shell, along with BP and Neptune Energy have more in store for 2023.
Pierce
Shell announced last week that following a "significant upgrade" the development had begun production yet again, however, this time it was able to produce gas as well as oil.
Modifications were made to the Haewene Brim floating production, storage and offloading vessel (FPSO), which is used to produce hydrocarbons at the Pierce field.
Production began its restart in February, with those works now complete.
A new subsea gas export line was also implemented at the site, connecting to the SEGAL pipeline system, which brings gas ashore at St Fergus, north of Aberdeen.
The FPSO, which is owned by Bluewater, stopped producing in October 2021 to make time for the upgrades.
It then spent six months in dry dock where it was transformed into a vessel that could also produce gas, which had previously been re-injected into the reservoir.
Peak production is expected to reach 30,000 barrels of oil equivalent per day, which is more than twice the production prior to the redevelopment, with more gas being produced than oil.
Penguins
Earlier this month Shell provided an update on another one of its wells that are set to come online this year, Penguins.
The London-listed supermajor applied to drill the 211/13a- 18 (PC-04) production well at Penguin East in late March.
Shell secured approval for the North Sea well from the Offshore Petroleum Regulator for Environment and Decommissioning (OPRED) on 5 April.
This well will be drilled 150 miles north-east of Shetland and is a redevelopment of a former tieback field to the Brent Charlie hub.
Shell said at the time of its investment decision in 2018 that the Penguins redevelopment would unlock around 80 million barrels of oil for the firm.
Work is set to begin in this month with the approval direction covering a period from 10 April 2023 to 31 December 2023.
Overall, the Penguins redevelopment will see a total of eight wells drilled and tied back to a newbuild FPSO vessel, which is currently undergoing final preparation work at Aibel's yard in Haugesund Norway, expected to last around five months.
This project saw Shell bringing in it's first new UK North Sea manned vessel for 30 years, which will be used for production.
This project hit a snag as protestors boarded the new vessel as it was being shipped to Norway.
Greenpeace protestors boarded the vessel and carried out a 13-day-long "occupation" of Penguins , during which the group travelled nearly 4,000 kilometres.
Seagull
Moving from Shell to its rival, BP (LON:BP), the British oil giant has a 50% share in the Seagull development which is set to come online in 2023.
Operated by Neptune Energy, which owns 35%, the high-pressure, high-temperature field is estimated to hold around 50m barrels, is being developed as a subsea tieback to BP's ETAP platform.
The remaining 15% of shares in the Central North Sea project which is expected to reach 50,000 barrels of oil equivalent per day (gross), is owned by Japex.
Neptune bought its stake in the project from Apache in 2018, and made a final investment decision in March 2019.
Mariner east
Not to be left out of the conversation, the Norwegian firm, Equinor, also has a new development which may begin production this year.
An extension to the company's flagship Mariner field, Mariner East could come online this year and yield 22,000 barrels of oil equivalent a day, according to GlobalData.
This will be developed as a tieback to the main platform in the North Sea.
Under current plans, heavy oil from the extension will be mixed together with production from Maureen and Heimdal, Mariner's two existing reservoirs.
From there it will be exported to the Mariner B floating storage unit, and exported via shuttle tanker.
Operator Equinor has a 65.11% stake in Mariner, while JX Nippon (20%), ONE-Dyas (6%) and Ithaca Energy (8.89%) own the rest.
Tolmount East – next year
The UK's largest producer, Harbour Energy (LON: HBR), despite cutting investment in the country also had a project set to come online this year.
However, the main Tolmount project, which is now operational, has experienced some issues. This has led GlobalData to predict that the extension project will not go live until 2024.
One of six projects set for fast track by the UK Government last year Tolmount East is located in Block 42/28d of the Southern North Sea.
It will be developed as an extension to Harbour Energy's existing Tolmount project, targeting around 53m barrels of oil equivalent of gas.
Recommended for you

West of Shetland: The projects in the UK's oil and gas hotspot