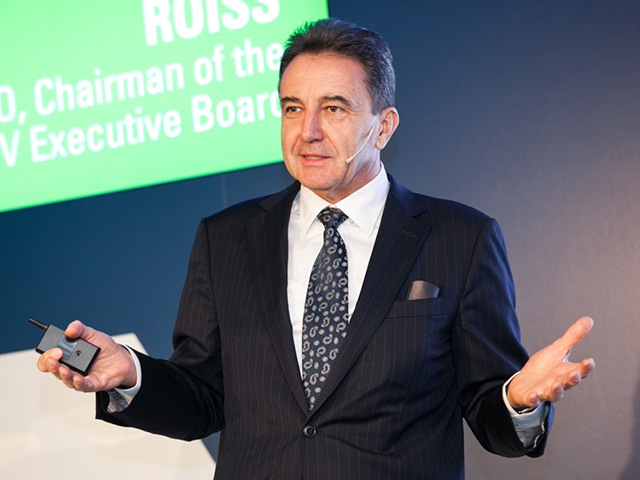 The shock announcement by Rosebank project operator Chevron threw into sharp relief the risks associated with developing new assets in the West of Shetland sector of the UK Continental Shelf, even after extensive appraisal.
Chevron said Rosebank did not "currently offer an economic value proposition" to justify the $10billion oil and gas development.
It said too: "Chevron will continue to work with all joint venture participants to further improve the project value."
And: "The Rosebank joint venture participants continue to work the front end engineering and design work and are focusing their efforts on developing an optimum development solution for Rosebank.
"Rosebank represents a large, undeveloped resource base in the UKCS, requiring significant investment to unlock its potential. The Rosebank team is working diligently to ensure that this investment fully optimises the value of Rosebank for all stakeholders."
But revelations that unfolded on November 22 at an oil and gas media briefing staged in Vienna by Austrian company OMV pointed to the US super-major having chosen a sub-optimal path for developing the field.
This is despite Chevron having doggedly pursued the Rosebank and underlying Lochnagar prize since first discovery in 2004, including the drilling of a significant number (possibly eight) of exploration and appraisal wells at an aggregate cost of more than $1billion . . . possibly the most expensive campaign ever pursued in UK waters.
It also became clear in Vienna that it is OMV which forced the engineering rethink so clearly under way rather than Chevron. The Austrian company even hinted that the American major had far larger prizes to pursue, such as the Gorgon project off Western Australia, so eclipsing its Rosebank commitment.
Indeed, Chevron is currently finalising its budget for 2014, which will be an investment-heavy year as it completes its huge liquefied natural gas export project at Gorgon, as well as three Gulf of Mexico projects due to start up next year that total $14billion in cost.
That budget is due out this month. Until the brakes were slammed on at Rosebank, the intent had been to achieve FID (final investment decision) next year which would have in turn initiated a number of large conditional engineering and fabrication contracts.
READ MORE:
Rosebank: The West of Shetland project as it stands
How the Rosebank story unfolded
It has been hinted to Energy that Chevron has lost interest in the North Sea and could even follow fellow US company Hess out the UKCS door.
By contrast, OMV says it is very committed to West of Shetland, having recently closed a major deal with Statoil that enabled its stake in Rosebank to increase from 20% to 50%. Chevron holds 40%, and Danish company DONG has the remaining 10%.
The field straddles blocks 213/26 and 213/27 and lies 130km WoS in 1,100m (3,600ft) of water. It is geologically complex; the hydrocarbon bearing formations being Devonian to Carboniferous continental sandstones.
The discovery well (213/27-1Z), was drilled by the drillship West Navigator in 2004 to 3,607m (12,153ft) and encountered medium to light oil.
In 2005, Transocean secured a contract to start the appraisal process using the rig Transocean Rather and, in 2007, the 205/1-1 well was drilled and tested.
During the production test, the well flowed at choked rates of 6,000 barrels per day of good quality light oil (37 deg API). It was the second appraisal well drilled in Rosebank as part of an initial three-well programme.
The deviated well, located at the southern end of the Rosebank structure, encountered more than 25m of vertical oil pay.
Further appraisal work was later carried out using the drillship Stena Carron, which was also utilised to drill other prospects in the area, such as Lagavuilin and to appraise Hess's nearby Cambo discovery.
Three to four years ago, it emerged that Chevron considered Rosebank to be commercial as it was testing the market for production ships, including the possibility of leasing a vessel. There was evidence of pre-FEED (front-end engineering and design) activity. However, information was sparse with a virtual news black-out imposed.
However, by late 2012, it became clear that Chevron was moving towards a commercial development.
It would be based around the Paleocene Colsay-1 South and Colsay-3 reservoirs of the Rosebank field; with the prospect of further potential appraisal drilling of the greater Rosebank area, which comprises the Rosebank South, Rosebank North and Colsay-1 North reservoirs.
Various contracts were placed of which more later. Then suddenly, bang! Chevron stuns the North Sea community with its terse announcement.
However, OMV seniors were clearly unruffled when they explained their position on November 22.
Depute chairman and chief financial officer, David Davies said: "By any definition it is a very significant project . . . $10billion and on that basis it is prudent that the partners make sure they get the engineering side right.
"That the partners are taking a bit of time to get it completely right is something that I completely understand.
"It is more important to get the investment costs right than to do it too quickly."
Chairman and CEO Gerhard Roiss said: "Rosebank is very important for us. We have been in it for a while already. We have 50% now.
"This decision was a joint decision. We see additional volume and resources in the project and at a lower cost."
But it was the head of exploration and production who revealed the most.
Jaap Huijskes said: "We're actually doing quite a bit of work in-house now and we want the operator to address some of the things that we're concerned about. For example, there's a Rosebank South accumulation that's currently not part of the development plan. We think it should be."
So where does the project go from here?
Huijskes told Energy: "We don't think there's need for further appraisal. We think this really needs the right engineering."
He indicated that discussions had been under way for some time but that the "conclusion that it might mean stop and try again" is more recent.
Huijskes pointed to a delay in the filing of the Rosebank field development plan with the Department of Energy and Climate Change . . . possibly no longer next year.
He said too that Rosebank was the key to a daisy-chain of further WoS developments such as Tornado, which was located in 2009 using the Stena Carron drillship.
The discovery well, spudded on September 26, 2009, encountered hydrocarbons, so a sidetrack well was drilled on October 17 and reached a total depth of 2,638m (8,655ft) in a water depth of 1,048m (3,438ft).
"Tornado needs an appraisal well but we're not going to commit to that until it's clear how we commercialise the find," said Huijskes.
"Then we've got Cambo where we're leaning on Hess the operator to get its development plan sorted out. You may have noticed that they're in the final stages of closing the office in London and they're actually marketing the asset. That again is taking to time.
"We are committed to West of Shetland. So we believe in Cambo, Rosebank and Tornado. But one needs the other.
"Rosebank will drive the gas export line, Cambo will then drive the infrastructure to allow something like Tornado to advance. Then there are others like Spitfire (block 204/14b) and Black Rock . . . that sort of stuff to get developed.
"It really is a matter of getting the first one out to the starting block and the first one is going to still be Rosebank."
When asked about the technology differentiators that were enabling OMV to question Chevron's approach, Huijskes pointed to the hundreds of skilled professionals who had been recruited this year alone, many with valuable North Sea experience.
"We're recruiting 1,600 people over the next three years; this year so far we've brought about 500 in. And a lot of those who we're bringing into the UK and Norway have a lot of offshore experience.
"What we've been telling Chevron is that we think that we can do better than they've done so far.
"Chevron's been managing this out of Houston and our opinion is that this might not have been the best choice.
"Of course, for Chevron this is a fringe project, they're concentrating on the likes of Gorgon offshore Western Australia . . . a massive project; whereas this is a little thing hanging off the side.
"But for us this (Rosebank) is a key project so we're probably focusing more than Chevron is right now.
"We also like the exploration. That's why it's part of our deal with Statoil."
In addition, OMV has lately picked up quite a bit of acreage in the 26th and 27th UK licensing rounds to the West of Shetland; plus it has secured a significant position in the adjacent Faroes sector where the company intends to participate in two Statoil-operated exploration wells next year.
The Faroes interests currently comprise:
L006: Statoil 35% (operator), ExxonMobil 49%, Atlantic Petroleum 1%, OMV 15% (acquired from Statoil) – otherwise known as Brugdan
L008: Statoil 40% (operator), DONG 30%, OMV 30% (10% acquired from Statoil, 20% already held by OMV) – Sulan Stelkur.
L009: Statoil 35% (operator), ExxonMobil 50%, OMV 15% (acquired from Statoil).
L011: Statoil 35% (operator), ExxonMobil 50%, OMV 15% (acquired from Statoil).
L016: Statoil 30% (operator), ExxonMobil 26%, DONG 30%, Atlantic Petroleum 4%, OMV 10% (acquired from Statoil) – otherwise known as Kuluboken
The plan is to re-enter the Brugdan-2 well site during H1 next year so that the well part-drilled in 2012 can be completed. Brugdan-2 was being drilled by the rig COSL Pioneer.
Brugdan was first drilled by Statoil in 2006 and lies just 61km (38 miles) from Rosebank.