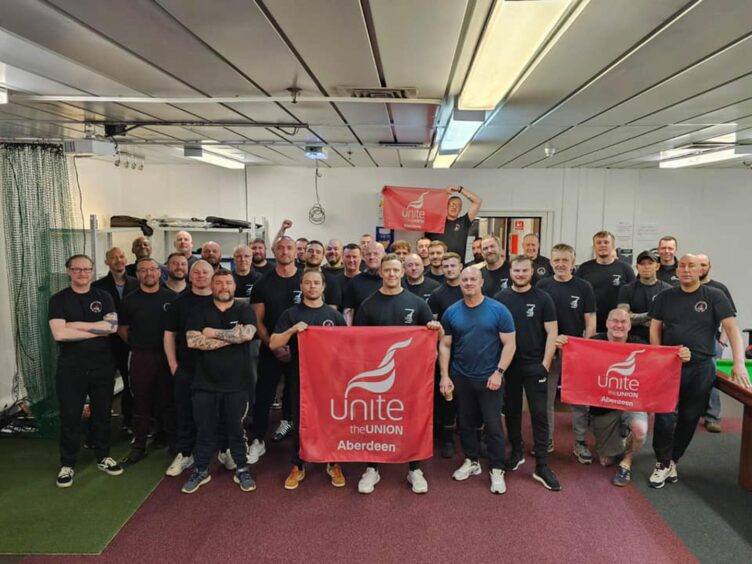 North Sea workers are set to take industrial action this week in an ongoing dispute regarding pay and working conditions.
Tomorrow "hundreds" of workers will take part in the action, flowing a week of energy operators posting "obscene" first-quarter profits.
Stork, Bilfinger and Petrofac workers are due to down tools across various North Sea assets.
To the workers that are arguing for an increase in their basic rate of pay, the figures posted by the likes of Shell and BP last week served as "a huge slap in the face," according to Unite the Union's regional officer, Shauna Wright.
Last month 1,300 workers downed tools as part of a 'tsunami' of strike action carried out by members of Unite the Union, impacting operators across the sector.
'Obscene' energy company profits
Ms Wright told Energy Voice: "I'm looking at BP and those quarter-one figures are obscene.
"They have not even come to the table with an offer for our members. They're not even in dialogue in trying to resolve this complaint and trying to bring this industrial action to an end.
"They may be happy to boast about their profits, but without our workers, those profits won't be coming in in the future because industrial action will come and we will make sure that BP hear our members voices, this is not acceptable."
BP has been asked for comment on the matter.
The British supermajor reported last week that it had made $5 billion in profits by the end of March this year and announced it would be launching a share buyback scheme.
However, it is not BP staff that are taking industrial action, it is those employed by contractor firms.
'At Bilfinger's foot, but the leg belongs to BP'
Vic Fraser, regional officer for Unite the Union addressed this at the last wave of industrial action when he said he hopes "the oil and gas operators see sense and open up their purse strings to allow the employers to meet our demands."
When asked about this, Ms Wright, who represents Unite's members employed by Bilfinger, said: "BP subcontract to Bilfinger Salamis to do the work that they need done.
"By default, they are the employer because they're paying another company to ask our members to do their work. This solely lies at Bilfinger's foot, but the leg belongs to BP."
Ahead of tomorrow's strike action, a Bilfinger spokesperson said: "Operational safety remains our top priority and we have procedures in place to minimise any potential disruption."
Unite is remaining in contact with Bilfinger "to try to get the likes of BP, CNRI [CNR International], TAQA and Ithaca round the table," according to Ms Wright, "to allow us to have these discussions."
The Unite spokesperson told Energy Voice, that as of 5 May: "We have three new offers to go out which are for from Ithaca, CNRI and TAQA, but we don't have Repsol Sinopec, and we certainly don't have BP at the table with any new offers."
Recommended for you

Unite plans 'hard-hitting' campaign to canvass energy workers