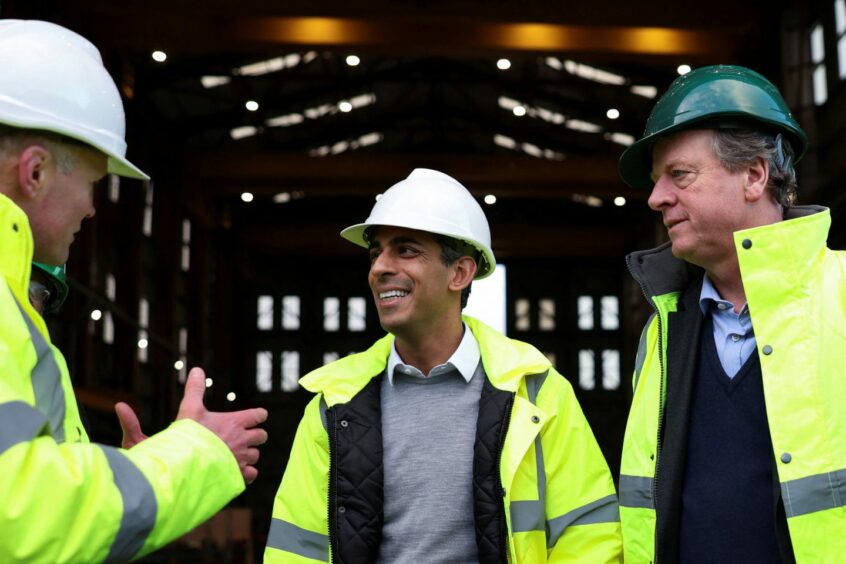 Prime Minister Rishi Sunak has said it makes "absolutely no sense to not invest" in resources in the UK, as he faced questions over plans to develop the Rosebank oil and gas field.
Green Party MP Caroline Lucas (Brighton Pavilion) told Prime Minister's Questions: "The Prime Minister has previously declared, and I quote, my daughter is the climate change champion in our house.
"I wonder if he's asked her what she thinks about Rosebank, the biggest undeveloped oilfield in the North Sea, which would blow climate targets, create more emissions than 28 of the world's poorest countries combined, involve the obscene transfer of £4 billion of taxpayers' money to a Norwegian energy firm, Equinor, and do nothing for energy security since the vast majority of the oil will be exported.
"If he gives it the green light, will he be able to look his daughter in the eye and honestly say that he has done everything in his power to give her and all other young people a liveable future?"
Mr Sunak replied: "As the independent committee for climate change has acknowledged, we will need fossil fuels for the next few decades as we transition to a greener future and during that period it makes absolutely no sense to not invest in the resources we have here at home, to import foreign fossil fuels, not create jobs here and import them at twice the carbon emissions as our local resources.
"It is an economically illiterate policy but that's what you'd expect from the Green Party."
The climate campaigning group Greenpeace turned the Prime Minister's words against him, saying he is "economically illiterate" for justifying investment in new oil and gas on the basis of energy security.
Responding to comments Rishi Sunak made during PMQs about the Rosebank oil field, Greenpeace UK's climate campaigner Philip Evans said: "When it comes to the energy crisis, the Prime Minister is proving he is the one that is economically illiterate.
"Doesn't he understand that any oil and gas drilled in the North Sea will be simply sold on the international market, handing more huge profits to energy companies? This will do nothing to lower bills at home.
"The evidence is clear, new drilling would be catastrophic for the climate. We've already got more than enough oil to see us through the transition to net zero.
"The Government must create an energy system fit for the future by removing the planning and grid blocks holding renewables back, and tackle the vast energy waste in our leaky homes.
"This is the only way to guarantee energy security, bring down bills, and tackle the climate crisis."
Recently a group of 40 European lawyers called for Sunak to scrap plans to develop the Rosebank oil and gas field saying it threatens globally agreed climate targets.
Recommended for you

NSTA CCS boss talks about making the Track process 'sustainable'