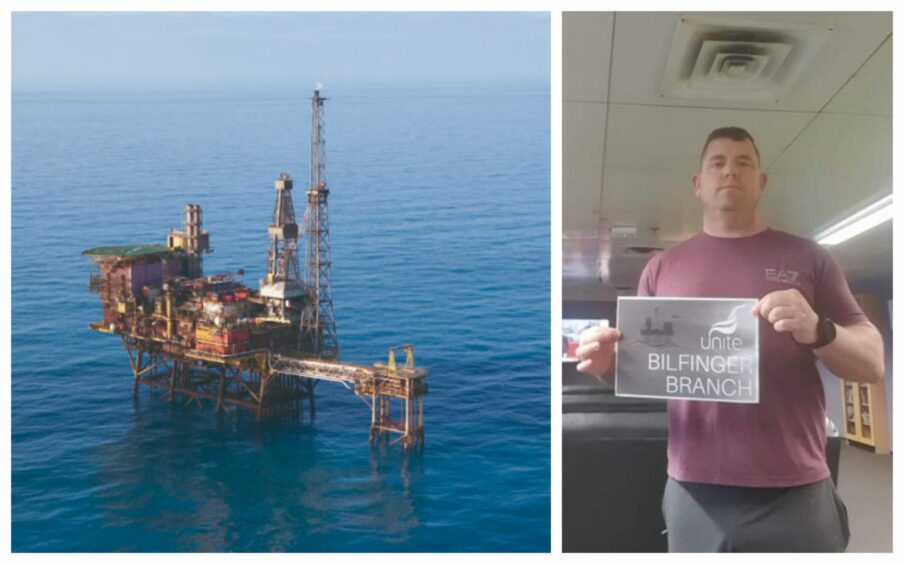 As over a thousand workers took industrial action last week, one man stood alone on the North Sea's Fulmar Platform.
Unite the Union member Alex Charlesworth made the decision to strike on a platform where everyone else went about business as usual in a bid for better pay and working conditions.
However, he understands why some of his Bilfinger colleagues on the Repsol Sinopec platform may have decided against taking industrial action.
He said that it was "their choice" not to strike "I did what was right for me, that's all a person can do," Mr Charlesworth added that there is "no tension" between him and those who chose not to strike.
Mr Charlesworth is one of seven Bilfinger employees stationed on the Fulmar platform.
Those employed by Bilfinger, Wood, Petrofac, Stork and Sparrows downed tools last week in an ongoing dispute with strike action set to continue as Unite plans to announce more dates for North Sea industrial action.
There were 1,200 union members across various installations in the North Sea taking industrial action as part of the second wave to hit the sector in two months.
'Really underpaid and undervalued'
When asked why he is striking, Mr Charlesworth said: "I chose to strike as I know a lot of my other workmates will be doing the same on other platforms.
"We are all in this together to get better rates of pay. Everyone across the board feels really underpaid and undervalued."
In response to a Facebook post from Unite the Union that commended him for his actions, Mr Charlesworth wrote: "Thanks for that but don't need praised, just doing what needs to be done to make life better out here for us."
Unite the Union's Bilfinger representative confirmed last week that members employed by the firm have not received any offers since they began the 48 hours of industrial action which came to a close on Thursday.
When asked about this, a Bilfinger spokesperson said: "We respect all workers' rights, and individual choice, to engage in legally organised industrial action."
A Repsol Sinopec spokesperson added: "We can confirm workers on some Repsol Sinopec-operated assets recently chose to take industrial action.
"We continually review the remuneration of our offshore workforce and support fair compensation aligned with the market.
"Our priority remains the health, safety and well-being of our people."
First minister shows support to workers
The strike action in the North Sea proved to be a hot topic last week with first minister Humza Yousaf addressing the issue at the opening today of the All Energy conference in Glasgow.
Mr Yousaf called for all parties to find a resolution to the wave of strike action, saluting the "phenomenal contribution" that offshore oil and gas workers have made to Scotland over the years.