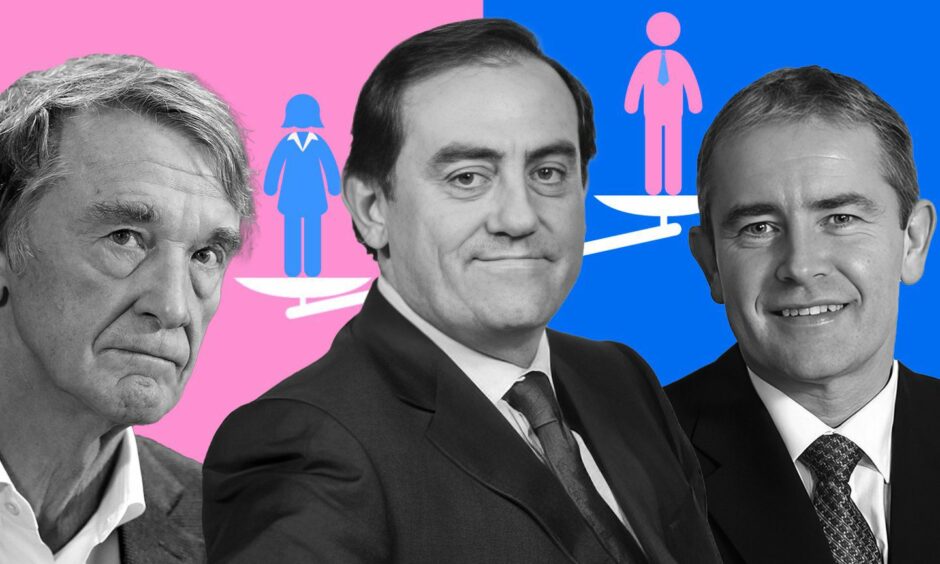 New data from a pressure group has highlighted the UK North Sea firms which have no female representation on their board of directors.
POWERful Women has released its Annual State of the Nation report, finding that 21% of energy companies across the UK have no female representation on their board of directors.
Diving into the statistics, North Sea firms Repsol Sinopec, Parkmead, Hague and London Oil (recently defunct) and INEOS all have no women on their respective boards.
Repsol Sinopec has five men comprising its board, Parkmead has four and Hague and London Oil and INEOS both have three men making up their boards.
Chair of the pressure group, Katie Jackon, says this data risks the industry looking "pale, male and stale."
Of the 80 firms the campaign group researched, 21% were found to have no women on the board.
The group finds that in 2023, 29% of board seats in the overall UK energy sector are held by women.
More diversity means more diversity of thought
At top executive level, women make up just 16% of the roles.
Of the 80 companies mentioned, Energy Voice looked at 20 companies  in North Sea energy services or operatorship with less than 40% female presence.
Katie Jackson, Chair of POWERful Women, spoke to Energy Voice about the firms with 0% representation: "That is one of the pieces of data that does strike me every year, maybe harder than some of the others.
"We still have this year, 17 out of that top 80 UK energy companies who indeed don't have any women on their boards.
"That lack of diversity should also be a bit of concern for them, because there's lots of research and actually also, I've had a lot of personal conversations that I think echo this, that suggest that boards that have better gender diversity have more diversity of thought, they have less group thought and they assess risk in a different way."
Supermajors set example
However, not all firms were found to be lacking in representation with Supermajors Shell, BP and TotalEnergies all having a more even split of male and female board members.
BP was found to have a 46% female presence and Shell proved to have more women than men on its board, with an impressive 55%.
TotalEnergies, the French supermajor, fell just short of the representation shown at BP and Shell, being found to have 14 board seats, six held by women, making 43% female representation on the board.
This still stands above the FTSE women leaders' review target of 40% and more than doubles the 21% of representation seen when combining all 80 companies showcased.
Still more to do
In response to the figures above, a Repsol Sinopec spokesperson said: "We aim to be an attractive employer for women and men at all levels in the organisation.
"Although female representation overall has improved, there is still more to do.
"We are committed to improving this and are undertaking a number of initiatives including a leadership programme targeting current and future female leaders in our organisation."
Harbour Energy, with Linda Cook as its chief executive, has a 40-60% split with four of its 10 board members being found to be women, according to the firm.
However, POWERful Women found it had 9 board members with 3 being women, making the gender split for the company leadership 67-33% in favour of male representation.
Harbour Energy said: "Currently, four of our 10 Board members – including our CEO – are female.
"We are proud of our work to place diversity, equity, and inclusion at the core of our business, as well as our commitment to establish pathways to help women reach senior roles across the organisation."
The UK energy firm noted that it had 40% female board representation throughout 2022 until November, when Anne Marie Cannon stepped down.
This figure increased back up to 40% as of its  AGM at the beginning of this month and, while not included in its board figures, Rachel Rickard holds the role of company secretary.
Addressing the disparity between the two findings, POWERful Women said: "Perhaps it is to do with different internal definitions of who is officially a board member."
The organisation did commend Harbour for being one of the few firms it surveyed that has a female chief executive.
On the findings of POWERful Women's report, Amanda Solloway MP, minister for energy consumers and affordability, said: "I passionately believe that we need women in leadership roles to drive towards our goal of securing cheap, clean energy that Britain needs to prosper.
"As both a woman and Minister for Energy Consumers and Affordability, I am committed to ensuring that all people, including women, are at the heart of all that we do."
Putting incentives in place
The group chair explained that initiatives brought in by firms can help incentivise women to join or stay with the business throughout their careers and work up the ladder to executive roles.
However, it ultimately lands at the feet of those in charge to put in place these initiatives and ensure that the industry is seen as perusing diversity.
Ms Jackson explained: "It's usually important that individual leaders within the industry, and really it comes a lot down to the CEOs, continue to make diversity a priority, set targets and then actually are seen to make progress towards those targets.
"Otherwise from a distance, our industry does risk looking kind of pale, male and stale. That's the issue."
Subsea7 says it is introducing the measures that Ms Jackson mentioned: "The company continues to take meaningful actions to offer development support and encourage women to apply for senior roles.
"We have introduced a range of recruitment, development and succession initiatives to strengthen representation across all levels."
Looking at the data produced in this report and POWERful Women's document from last year, female representation in the board room has increased but to Katie Jackson, this combined with the low representation shown by some firms can be viewed "as two sides of the coin."
Ms Jackson said: "On the one hand, I think that there is year-on-year progress and so that is I do take that as positive.
"But I don't think the progress is fast enough and I think it is also quite striking that when you look at the FTSE women leaders review and the target of 40% representation on boards by 2025, the FTSE 350 has already met that target, whereas we in energy are, you know at 29%."
Recommended for you

Next generation of senior leaders to help 'make strides' in D&I