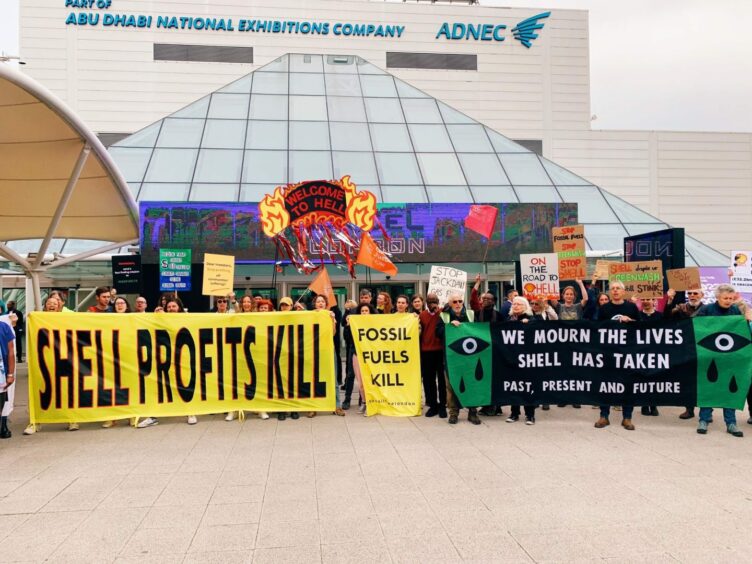 The Shell AGM was delayed by over an hour due to the interruption of climate protestors, kicking off at around 11 am.
Most notably, following over 40 minutes of interruptions, climate activists attempted to invade the stage as chairman Sir Andrew Mackenzie made efforts to kick off the annual general meeting (AGM).
Sir Mackenzie, told attendees: "If anyone else attempts to move towards the stage, we will have to remove you."
UPDATE: Climate protesters attempt to storm the stage of Shell AGM!!!

As Shell continues to cause climate chaos, we will continue to do everything in our power to #ShutDownShell pic.twitter.com/yl2tJlZXUD

— Fossil Free London (@fossilfreeLDN) May 23, 2023
Disruptors performed their own rendition of Ray Charles' Hit the Road Jack, reworking the lyrics to read "Go to Hell Shell".
Continuing to demonstrate their abilities to parody popular tunes, activists repurposed Queen's We Will Rock You to "We Will Stop You."
BREAKING: Chaos at Shell AGM as climate protesters sing 'Go to Hell, Shell'!#ShutDownShell pic.twitter.com/wkFK8LmpGs

— Fossil Free London (@fossilfreeLDN) May 23, 2023
Sir Mackenzie continued to tell protestors that if they waited until the questions portion of the meeting, they would be welcome to have a debate on the issues being raised.
However, one by one activists chose to disrupt and subsequently be thrown out.
They also sang "We hate jackdaw, we hate jackdaw, we hate jackdaw, Jackdaw we hate you!"
BREAKING – Shell AGM disruption has started – This is going to be BIG – #ShellMustFall

Time to deliver the verdict of the #PeoplesHealthTribunal and demand #ReparativeJustice for frontline communities resiting their deadly projects pic.twitter.com/uZKrVkgPEv

— XR Money Rebellion 🌍🌱🏳️‍⚧️ (@money_rebellion) May 23, 2023
A similar situation was seen at Shell's rival, BP's AGM at the end of last month.
At the time of BP's meeting, Energy Voice reported a 'Conga Line' of protestors being ushered out of the building following disruptions.
A similar procedure was carried out by Shell; however, this does point towards a disruptive trend for energy supermajors as they look to hold meetings with shareholders.
Chairman finally begins meeting
Once the AGM in London was able to commence, Sir Mackenzie addressed that Shell has increased production of LNG last year as Russia cut supply to Europe.
He said: "Yes, at Shell we have done our best over the past years to keep energy supplies flowing, at the same time we have continued to make significant investment in solar, wind power, biofuels and hydrogen."
The chairman noted that, due to the nature of innovation, Shell's road to net zero would be "more lumpy than linear".
Today's meeting marked the chief executive of Shell, Wael Sawan's, first AGM at the helm, following Ben van Beurden stepping down at the end of last year.
At the AGM, Mr Sawan said: "The World needs to cut emissions and it needs enough reliable energy that people can afford. Since we need both, the transition to low carbon energy systems needs to be balanced."
He explained that not investing in oil and gas can produce higher emissions as production levels drop from ageing basins.
The chief executive mentioned that his firm must "focus on our strengths" to reach net zero, mentioning that deepwater oil and gas would be necessary as Shell, along with the rest of the world, looks to cut carbon emissions.
Follow This
He said that "it would help" if the shareholder activist group, Follow This, "contribute to this change but they continue to focus on the supply of energy doing so Follow This' resolution fails to provide a clear cause of action for our business."
Mark van Baal, head of Follow This, stood up at the meeting, saying: "An important effect of the Follow This climate resolution is to provide clarity, firstly clarity that the board does not want to drive down emissions this decade. They only want to make promises for 2050."
Follow This has filed a resolution calling for Shell to tighten its 2030 reductions targets for emissions on the products it sells.
The resolution has been backed by proxy adviser Pirc, which has also called for shareholders to vote against reappointing the company's chairman, Sir Andrew Mackenzie, and oppose its annual report for failing to address climate risks by setting adequate targets.
Both the chairman and the chief executive of Shell disputed any accusations that the firm is not Paris Agreement aligned with Mr Sawan outlining that emissions have reduced as a result of initiatives put in place and the firm looks to drive figures down even further as it looks to 2050.
However, the chief executive noted that investment in renewables also must scale up in his initial speech to the shareholders.
Mr Sawan said at that time: "In 2022, we invested $8.2 billion dollars in low carbon energy and non-energy products, around a third of our total cash expenditure of $25 billion."
Only 20% of shareholders voted in favour of the resolution proposed by Follow This.
The group founder remarked: "We have made it easy for investors to use the power of their votes, but many investors have yet to decouple short-term profits from long-term risks for the company and their portfolios."
Mark van Baal added: "We hope that other investors will follow their leadership and view Total's, Exxon's, and Chevron's AGMs later this month as retakes to correct their oversight."