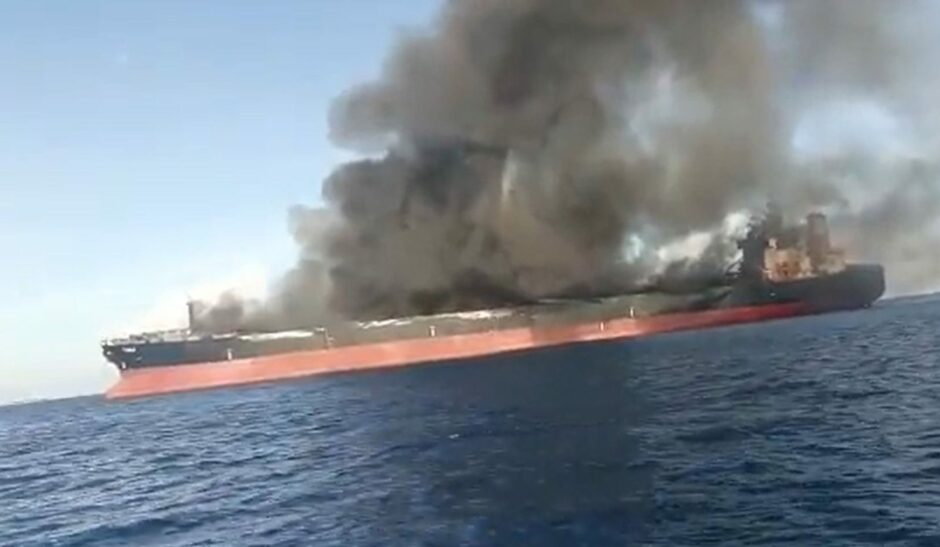 Sanctions on Russia have driven that country's oil exports onto the "dark fleet", where insurance and safety are negligible – and accidents only a matter of time.
Evidence of these dangers has already been demonstrated. In May, the Pablo tanker was engulfed in an explosion offshore Malaysia. The nearly empty Aframax had visited China and was likely heading back to Iran when the incident occurred.
Another, the Titan – its eighth registered name – was detained in China after it failed a safety inspection on more than 20 counts.
It is not yet clear exactly what caused the explosion on the Pablo, though recent reports citing captain Lepyoskin Oleksandr, suggest a fire broke out on the upper deck and while its hold was empty, a buildup of gas was enough to ignite the vessel. Three of the 28 crew were killed, though the rest were rescued by Malaysian authorities.
The tanker's recent activities raise a number of red flags. At the time of the accident, it was sailing under the flag of Gabon, a designation it had only had for six days.
Pablo too had changed its flag state a number of times, which raises alarms.
Windward, a maritime AI company, has noted that flags of convenience are used for nearly all dark fleet vessels. Panama is the most likely flag provider, it said, accounting for 33.8% of vessels, while others are Liberia, the Marshall Islands and Liberia.
Another indicator is vessel age. The Pablo was built in 1997. Of the dark fleet, 80% are more than 15 years old, Windward CEO Ami Daniel said.
"It makes sense, one of the clear rules for the super-majors is not to hire a vessel more than 15 years old. Those vessels, therefore, roll into the dark fleet. It would be very rare for a trader to take such a vessel when super-majors would not. It's not worth the danger of having a spill."
Owners of these ships are based in the United Arab Emirates, Greece and Hong Kong, Windward has said. The company has put the dark fleet at around 1,100 vessels, as of March.
Safety regime
It was the Exxon Valdez disaster of 1989, offshore Alaska, that had a dramatic impact on safety regulations. Following this oil spill, rules were brought in mandating tankers be double hulled and setting in motion a range of safety checks.
Regulatory requirements such as SIRE inspections, which involve an inspector physically inspecting a tanker and asking hundreds of questions, have played a part in reducing accidents. Companies, who have their own tanker inspection teams, and insurers, drive this.
This meticulous process of assessments and verification is "the world pre-Putin", Daniel said. "There is no being tested for these tankers, as they're not entering ports in places such as the European Union, or the US, or Australia. SIRE inspections are used by super-majors, they don't trade Russian oil, so there's none of those inspections. All the building blocks of safety are slowly deteriorating."
The lack of maintenance and inspection is compounded by risky practices, such as ship-to-ship transfers without proper tug boat support and spoofing AIS locations.
The crackdown on Russian trade is intensifying, he continued, with the 11th sanctions package. This new set of EU sanctions tightens the screw on those doing business with Russia.
The afterlife of Pablo
As of late June, the Pablo has been left unattended for nearly two months. Without a contactable owner, and without confirmed insurance, Malaysian authorities are reportedly unsure of what to do with the wreck.
Until its status is determined, neither can it be designated a wreck under the Nairobi Convention – an agreement which provides a legal basis for states to remove wrecked vessels which pose a hazard to navigation or the marine environment.
And with the dark fleet now numbering in the hundreds, the potential for future incidents like this is high.
The maritime sector is closely monitoring the issue, and sources suggested it remains a major concern for all in the industry.
Where possible, action can be taken. In early June, Lloyd's Register withdrew certification of 21 vessels operated by India's Gatik Ship Management. It marked a continuation of sanctions against the company, after St. Kitts & Nevis also deflagged 36 of its ships.
Lloyd's Register said it was "committed to facilitating compliance with sanctions regulations on the trading of Russian oil."
In a statement to Energy Voice it added: "Where supported by evidence, we withdraw class and services from any vessels found by the relevant authorities to be breaching international sanctions."
Yet in a world where vessels can change their names, flag and register and vanish – seemingly overnight – the industry has its work cut out if it hopes to stop further such incidents.
Recommended for you

Russian oil transfers on the rise in West Africa