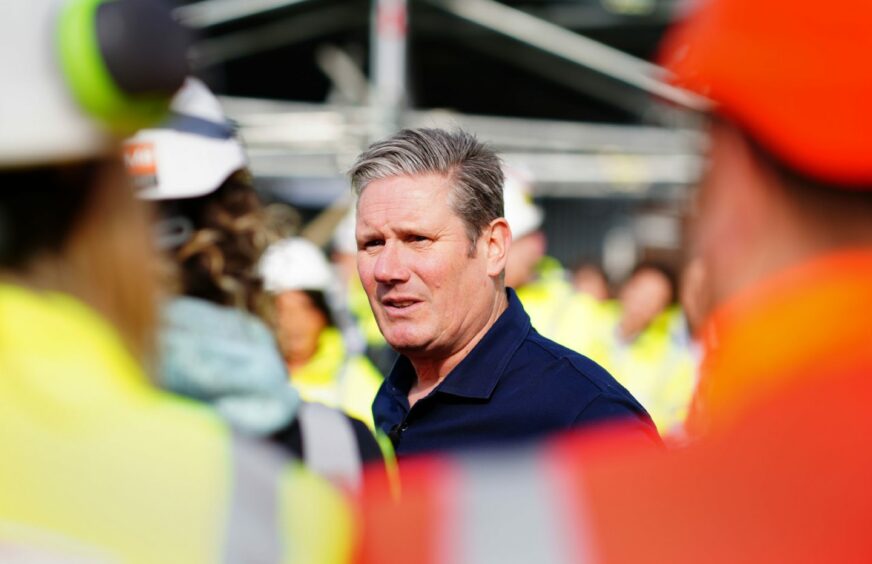 Sir Keir Starmer has said Labour would not tear up the 100 new drilling licences Rishi Sunak plans to grant as he described Just Stop Oil's demands as "contemptible".
The Labour leader said he would only ban the granting of new licences to explore oil and gas fields in the North Sea as he seeks to give businesses certainty.
Writing in the Times, he sought to distance himself from Just Stop Oil as the Tories attack Labour for accepting £1.5 million donations from the campaign group's backer Dale Vince.
Sir Keir criticised their demands to "simply turn off the taps", arguing that it would create "chaos" as existing fields are needed for a managed transition for "decades to come".
But he also attacked the Prime Minister for trying to force a "cultural wedge" between car drivers and those who want to tackle climate change.
He suggested the Conservative leader was trading the nation's "long-term interest for short-term political gain" as the Tories signal they could ease some net zero measures.
Sir Keir argued any weaponising of the environment "won't work because British people overwhelmingly both drive cars and want to tackle climate change".
"The likes of Just Stop Oil want us to simply turn off the taps in the North Sea, creating the same chaos for working people that they do on our roads. It's contemptible," he wrote.
"On the North Sea, Labour's plan is pragmatic and fair. To secure a managed transition, we will need our existing oil and gas fields for decades to come.
"We won't revoke any licences issued by this government because, unlike them, we take investor certainty and legal obligations seriously."
Mr Sunak angered climate activists and green-minded Tories by announcing plans to "max out" oil and gas reserves to grow the economy and seek security after Russian president Vladimir Putin pressured Europe by cutting supplies.
The Tories' narrow victory to hold on to Uxbridge and South Ruislip in last month's by-election has led to calls to rethink the way policies to alleviate the climate crisis are implemented.
Mr Sunak has sought to portray himself as being on the side of "motorists" after London Mayor Sadiq Khan's Ulez anti-emissions charge was linked to Labour's failure to win.
The Prime Minister has ordered a review of low-traffic neighbourhood (LTN) schemes, as some Tories press for environmental measures to be eased during a cost-of-living crisis.
But Environment Secretary Therese Coffey warned her colleagues that abandoning green policies could cost the Conservatives the next general election.
"In order to win the next election, we need to continue to show that we care about the environment," she told the Mail on Sunday.
"We also need to show that there is a way to do that which doesn't put burdens on hard-working people."
She insisted that ministers are not weakening efforts to reach net-zero by 2050.
"Trust us on our record, not on the clickbait."
But not all Conservatives believe Mr Sunak is committed to the environment, with Lord Zac Goldsmith alleging the PM was "uninterested" in the crisis as he resigned as a minister.
Environmental tensions have also gripped Labour, with leader Sir Keir telling Mr Khan to "reflect" on the expansion of the ultra low emission zone in the wake of the by-election.
The Labour mayor responded by extending to all Londoners the £2,000 scrappage grant for the heavy-polluting cars that will be hit by the £12.50 charge.
Recommended for you

Sunak plans roll back on green energy policies