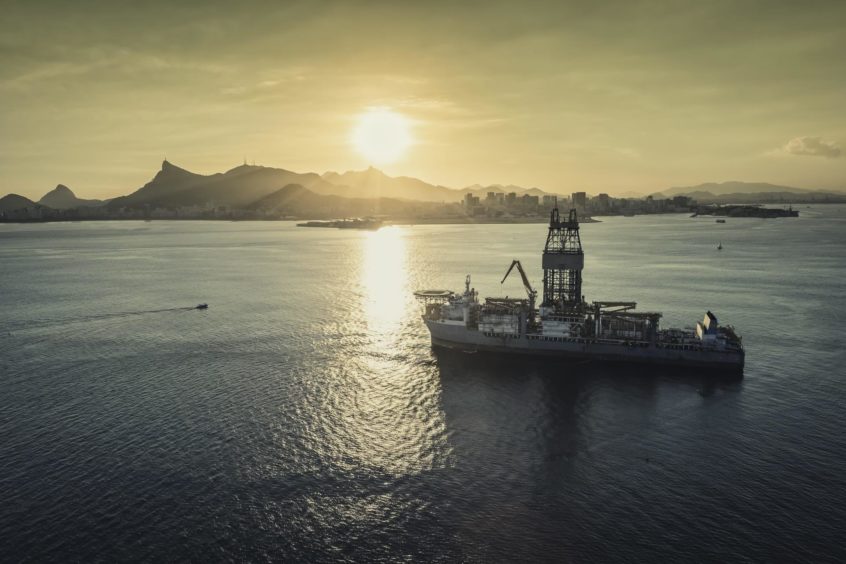 As Rystad Energy exploration analyst Arkabha Saha notes, frontier drilling in the first half of 2023 was "interesting, albeit weak".
Research from the Oslo-headquartered business intelligence firm shows that 31 high-impact wells are expected to be spudded in total this year.
As it stands 14 of those have been completed, and just four of those were successful – "a measly 29% success rate".
That leaves 17 high-exploration wells in the hopper, with work currently ongoing on five of them, and 12 still yet to get moving.
"In the second half of this year, majors like Shell, Eni and TotalEnergies will be drilling half of the high-impact wells planned," says Mr Saha.
Asia is on course to be the "new hot spot for high-impact exploration", while there are notable plays pencilled in for Africa and South America – Europe is lagging a long way behind.
Here is a run-down of the headline high-impact wells that Rystad expects to be drilled in the second half of 2023.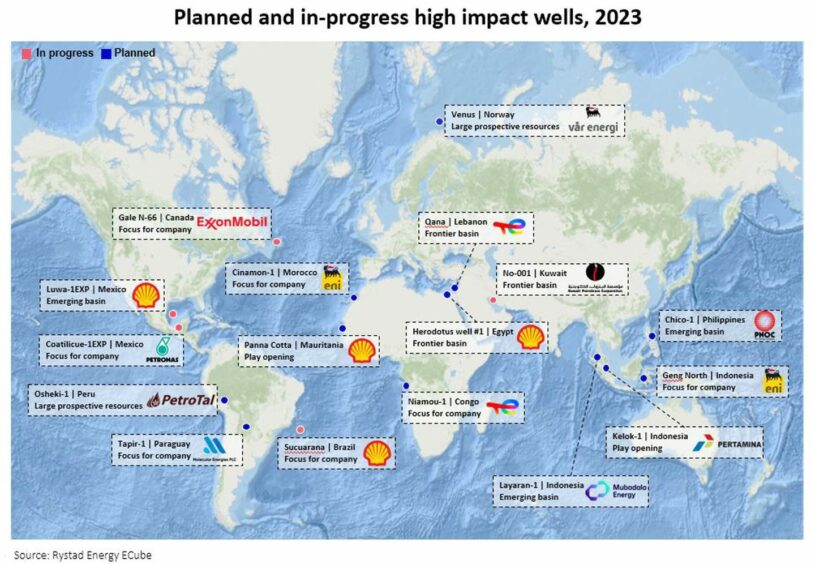 Var Energi – Venus – Norway
Europe's sole entry is, unsurprisingly, offshore Norway, with the country now the continent's most important oil and gas producer.
Operator Var Energi (OSLO: VAR), which is majority owned by Eni, expects to drill its Venus play in the fourth quarter of 2023.
Not to be confused with the identically named find offshore Namibia, the Barents Sea prospect has a pre-drill unrisked potential of 313 million barrels of oil equivalent (boe).
Var has a 30% stake in Venus, and company chief executive Torger Rod has said it has the potential to be "very significant".
Exxon Mobil – Gale N-66 – Canada
Drilling of Exxon Mobil's (NYSE: XOM) Gale N-66 prospect in the seas off Newfoundland and Labrador, Canada, got underway this summer.
The US supermajor has drafted in the Hercules rig to carry out the work in the Jeanne d'Arc Basin.
Gale N-66 is the third well in Exxon's campaign in the region, and is of significant importance to the eastern Canadian province after recent duds.
Am environmental assessment of the project has drilling and evaluation lasting between 45 to 70 days, with abandonment or suspension due to take place through August and September.
Shell – Luwa-1EXP – Gulf of Mexico
Oil giant Shell (LON: SHEL) is targeting unrisked resources of up to 24 million barrels of oil equivalent at its Luwa-1EXP well in the Gulf of Mexico.
It is part of a package of deep-water wells the supermajor is drilling in the region, where exploration activity is heating up generally.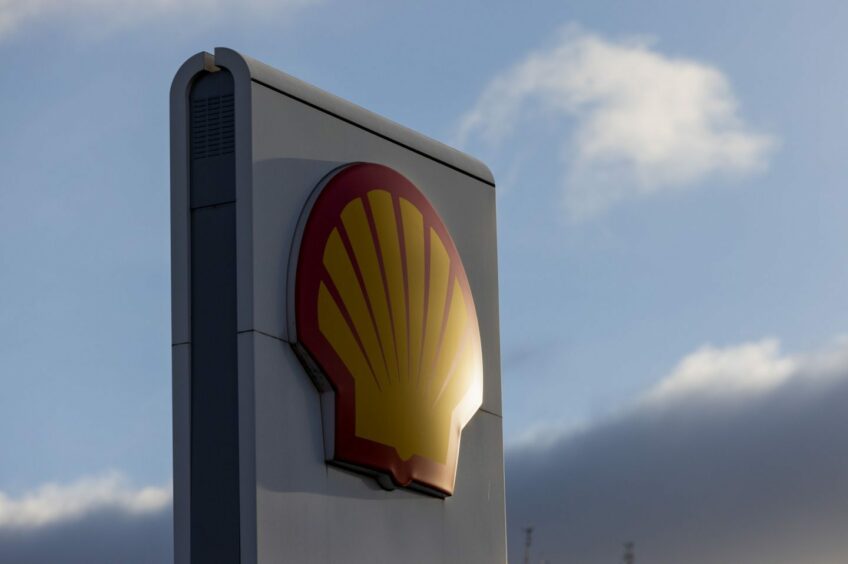 The Maersk Voyager barge is currently in the process of spudding Luwa-1EXP – the wildcat is located in Block 4 in the northern Perdido fold belt.
Petronas – Coatlicue-1EXP – Gulf of Mexico
Drilling is also taking place at Malaysian giant Petronas' (6033.KL) Coatlicue-1EXP well, a deep-water play in the Salina Basin.
The Noble Globetrotter I has been drafted in to carry out the work in the Gulf of Mexico, on a day-rate of £325,000.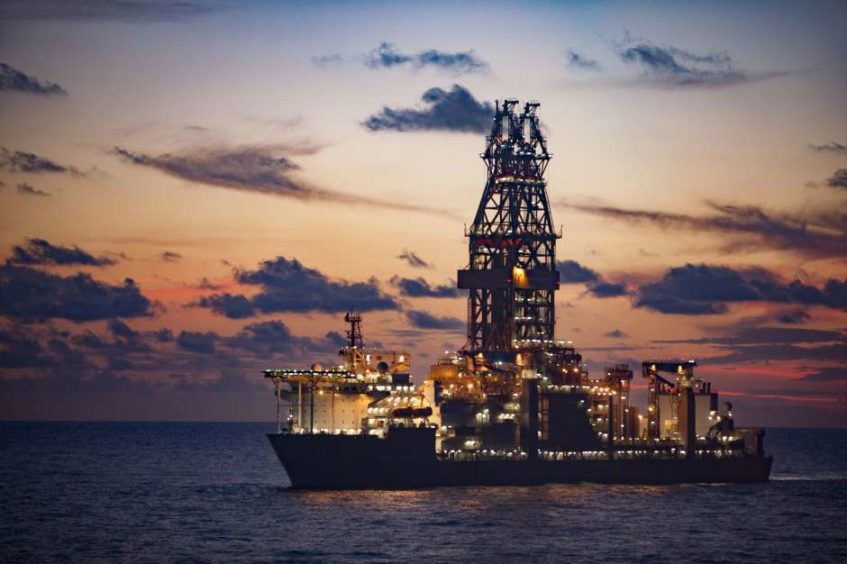 The state oil company Petronas is also targeting the nearby Naajal-1EXP play.
Shell – Sucuarana – Brazil
Somewhat surprisingly for such a buzzing region, Shell's Sucuarana prospect is the only Brazilian inclusion on Rystad's list of high-impact wells.
The Anlgo-Dutch supermajor has contracted the Noble Developer rig to spud the prospect, with drilling work in progress in the Campos basin.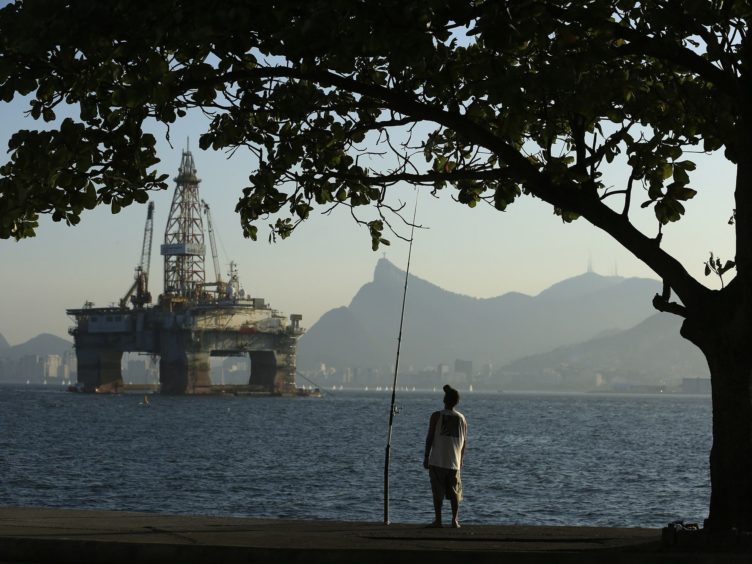 Shell is the operator of the region – block C-M-659 – with 40%, while the remaining interests are owned by Chevron (35%) and QatarEnergy (25%).
A research note recently published by Esgian revealed Shell had found natural gas in its Suçuarana-1A well, though it's not yet deemed to be a discovery.
Shell – Panna Cotta – Mauritania
The Noble Voyager drillship will head to Mauritania in the last quarter of 2023 to spud Shell's tastily named Panna Cotta well.
According to the project partner and state-owned oil company SMH, success at the prospect open up a multi-billion barrel play off West Africa.
That's backed up by Rystad, which has labelled Panna Cotta as potentially play opening.
Shell entered Mauritania in 2018, agreeing a pair of production sharing contracts with the country's government for exploration in offshore blocks C-10 and C-19.
TotalEnergies – Qana – Lebanon
French oil major TotalEnergies (PARIS: TTE) confirmed in August that the Transocean Barents had arrived on location on Block 9, around 75m off the coast of Lebanon.
It follows a US-mediated agreement signed last year that formally established the Lebanon-Israel maritime border.
The main target on Block 9 is the Qana prospective gas field, a frontier play that extends over the border with Israel.
TotalEnergies operates the field with a 35% stake, while Eni holds 35% and QatarEnergy 30%.
"Along with our partners, we are committed to drilling as soon as possible in 2023 an exploration well in Block 9, and our teams are mobilised to conduct these operations," TotalEnergoes CEO Patrick Pouyanne said earlier this year.
Shell – Herodotus well #1 – Egypt
In January Shell announced it has contracted the Stena Forth ship for a gas exploration campaign offshore Egypt in the Mediterranean Sea.
A total of three frontier wells will be spudded in the Herodotus basin, which has previously been described as under-explored.
Eni – Geng North-1 – Indonesia
Drilling at the Eni-operated (NYSE: E) Geng North-1 prospect, located in Indonesian waters, is targeted to begin in the third quarter of 2023, partner Neptune Energy said earlier this year.
The high-impact well is aiming for a huge, multi-trillion cubic feet of gas prospect that will likely be a standalone, should it be a success.
The Italian supermajor had hoped to drill at Geng North in 2020 but the timeline was kicked back as a result of Covid-19.
TotalEnergies – Niamou-1 – Congo
A leading figure in TotalEnergies sais in July that the company will drill an exploration well on the Marine XX licence off the Congo this year.
Henri-Max Ndong Nzue, the group's senior vice president in Africa for exploration and production, was speaking to the press following a meeting with Congolese President Denis Sassou Nguesso in Brazzaville.
As part of the campaign TotalEnergies will drill the Niamou well in 2023, in around 2,000 metres of water – it will be the company's first exploration well in the country for some years.
Also on the list
Petrotal – Osheki-1 – Peru
Molecular Energies – Tapir-1 – Paraguay
Eni – Cinamon-1 –  Morocco
Kuwait Petroleum Corporation – no-001 – Kuwait
PNOC – Chico-1 – Philippines
Pertamina – Kelok-1 – Indonesia
Mubadala Energy – Layaran-1 – Indonesia
Recommended for you

2024: A lost year for North Sea FIDs?