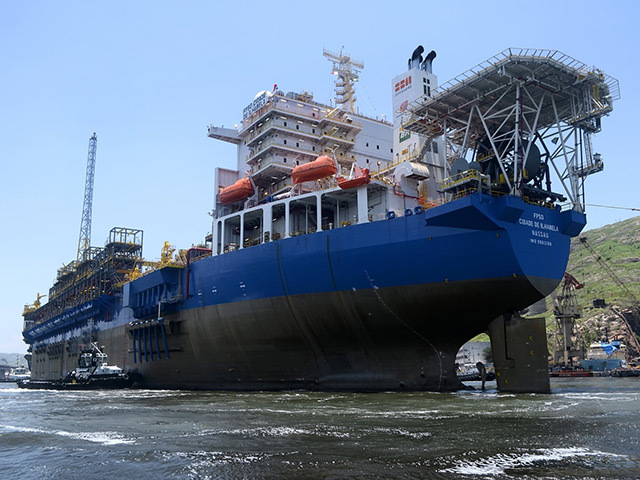 Brazil's Brasa shipyard has started the fitting out of the FPSO Cidade de Ilhabela, which arrived from China on January 12.
The yard has already manufactured 10 of the 18 process modules to be installed.
It is located at Niteroi, near Rio de Janeiro, is a joint venture between SBM Offshore and Synergy, and was created to comply with Brazil's tough local content rules.
Brasa has been operational since July 2012 and the Ilhabela is the yard's first project where process modules have been manufactured locally.
Aside from the 10 modules fabricated at Brasa, three further units were constructed and delivered by EBSE, a Rio yard that SBM works closely with as part of its development of solid local content solutions.
Once in operation FPSO Cidade de Ilhabela will be the world's largest tanker hull-based FPSO with a total of 22,000 tonnes of topsides stacked on to the hull of what was once a trading ship and which was initially modified by the Chinese yard CXG prior to arriving in Brazil for fitting out.
She is the company's second vessel in the "Generation-3" series, which have been engineered to the specifications of the emerging pre-salt fields offshore Brazil.
The first is FPSO Cidade de Paraty which achieved first oil in June 2013. The next pair of SBM's Generation 3 FPSOs under way are FPSOs Cidade de Maricá and Cidade de Saquarema also for offshore Brazil.
Once fully fitted out, the Ilhabela is expected to proceed to the Sapinhoa field located on block BM-S-9 and be on station and in production late this year.
Sapinhoa (formerly Guara) is an early pre-salt oil discovery (2008) and estimated to contain recoverable volumes of 1-2billion barrels oil equivalent.
Guara was drilled by the Stena DrillMAX drillship to a total depth of 6,137m (20,134ft) in 2,140m (7,000ft) of water.
Operator Petrobras performed an extended well-test on the discovery in 2010 and then submitted a declaration of commerciality on December 30, 2011.
The aim was to achieve first production in 2013 but with development activity continuing until 2016.
In January 2010, Petrobras and its licence partners signed a letter of intent with the Schahin/Modec consortium to charter and operate an FPSO on the Guara field for a 20-year term. The FPSO Cidade de Sao Paulo was to be designed to process 120,000 barrels of oil and 5million cu.m of gas per day.
It was equipped to receive up to 10 producers and 10 injectors, including spare wells.
In April 2010, Aker Solutions won under a frame agreement the contract from Petrobras to supply 14 trees for the field with the work managed, engineered and executed at the firm's Curitiba facility in Brazil, with support from Aberdeen for the subsea control systems.
Simultaneously, SBM Offshore secured the 20-year charter and operation of the Ilhabela for the northern part of Sapinhoa. The FPSO was to be owned and operated by a JV comprising affiliated companies of SBM Offshore and QGOG, and Mitsubishi Corporation.
The vessel would be fitted with topsides facilities to process 150,000 barrels of oil and treat up to 6million cu.m of gas, with compression and carbon dioxide removal, hydrogen sulphide removal, and a water injection facility for 180,000bpd.
Fast forward again and, in January last year, Petrobras achieved first commercial production from Sapinhoa. Well 1-SP-55 was the first to be connected to the Sao Paulo and started production at a restricted rate of 15,000 barrels of oil per day while gas processing and reinjection equipment was commissioned. The well would then be ramped up to 25,000bpd.
Peak production is expected to be reached late this year, once the Ilhabela is on station, hooked up and commissioned.
Both vessels will provide a combined production capability of 270,000 barrels of oil and around 10million cu.m (388million cu.ft) of gas per day.
Among contractors to have won significant subsea-related work on Sapinhoa are:
Technip: Manufacture of gas injection flexible lines
Saipem: Transportation, installation and pre-commissioning of gas export pipeline, as well as the engineering, procurement and construction of related subsea equipment
Subsea 7: Project management, engineering and installation of flowlines and umbilicals including "lazy wave" risers
Technip: Supply of approximately 100 kilometres of flexible pipes for oil production, gas lift, and gas injection for Sapinhoá Norte
On subsea wellhead systems side, in April last year Aker Solutions received a second call-off order from Petrobras for the delivery of subsea equipment for both Sapinhoa and Lula Nordeste. The contract stemmed from the frame agreement signed in April 2010.
Scope of work includes 20 well-sets with vertical subsea trees, subsea control systems, tools and spares within the 2013-2015 period, but it was not clear how many well-sets were destined for Sapinhoa, which is licensed to Petrobras, operator, with a 45% interest; BG Group holds 30%; while Repsol has the remaining 25%.
Recommended for you
X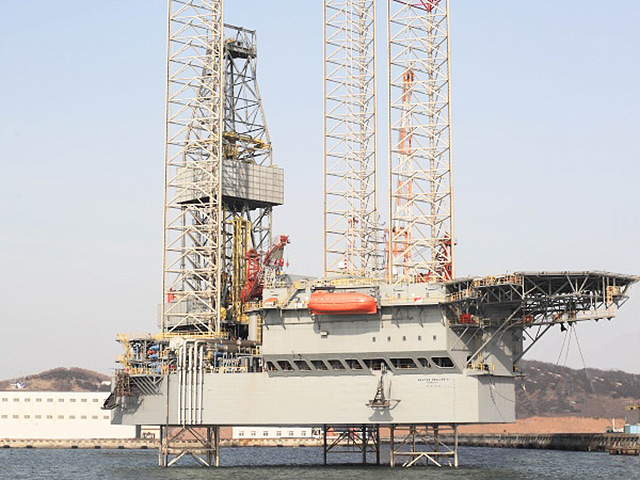 Chinese yard bags the biz