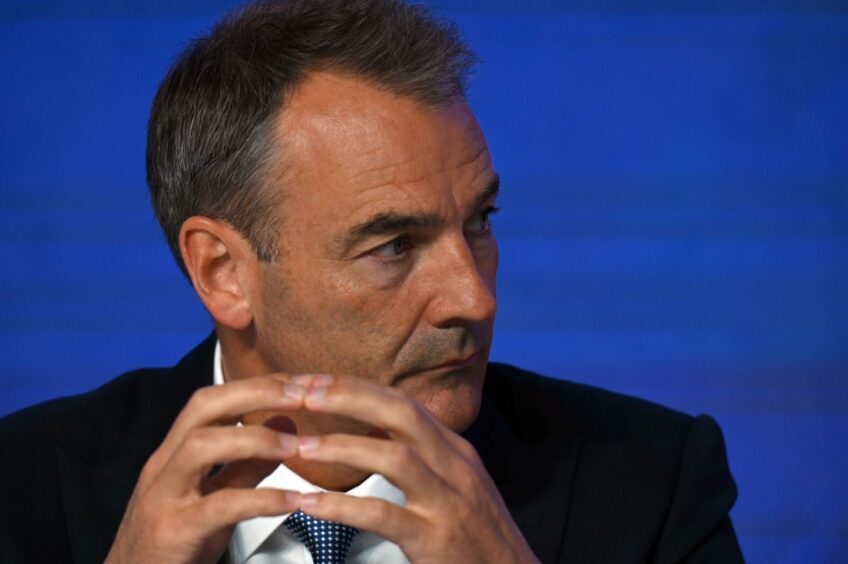 Titans of the oil and gas world like Exxon Mobil Corp., Chevron Corp., Shell Plc, and BP Plc have successfully adapted to countless societal changes over the last century — war, nationalizations, even the climate movement.
But a major hurdle remains: Big oil has yet to appoint its first-ever female CEO — something BP (LON: BP) could soon change.
Last week, the 114-year old British oil company parted ways with its charismatic CEO Bernard Looney after multiple investigations found he failed to disclose several workplace relationships. What the board knew and when remains unclear. BP's interim leader, Murray Auchincloss, is also in a relationship with a BP employee, though the company says it was fully disclosed when he became CFO.
Appointing a female CEO would send a clear message that the clubby era of petro-masculinity could finally be coming to an end. But doing so will require bucking more than a century of precedent: Only two women — Vicki Hollub at Occidental Petroleum Corp. and Meg O'Neill at Woodside Energy Group Ltd. — currently lead large international oil companies.
"It's a very tough culture," Jane Stevenson, global leader for CEO succession at executive search firm Korn Ferry, said in an interview. "In some companies, not all, everything is set up for male norms — and it makes it difficult."
In the US, women represent just 13% of the oil and gas C-suite, the lowest of any professional industry, according to McKinsey & Co. Worldwide, women occupy just 22% of jobs in oil and gas, making it the third-most gender imbalanced industry, according to a 2021 study by Boston Consulting Group and the World Petroleum Council. Despite the industry's embrace of diversity and inclusion policies, that percentage was unchanged from four years earlier.
To explain the disparity, industry executives often point to the dearth of women studying science, technology, engineering and math. But this only accounts for part of the problem: While women earned only 22% of degrees in engineering in 2018, they earned 53% of STEM degrees, according to Pew Research.
In the BCG study, the top two career obstacles women cited were not being told of job opportunities and unfair performance evaluations. A review of the resources industry by the Australian government supported that study: It depicted an industry dominated by a macho culture rife with sexual harassment, one where employees promotions are based on personal recommendations rather than merit.
"I'm tired of hearing, where are the women?" Katie Mehnert, CEO of Ally Energy, a Houston-based human capital management company, said in an interview. "There's not a lack of women. There's a lack of visibility and opportunities for them to progress."
Women who ascend the ranks in oil and gas tend to do so in finance, legal and human resources roles. Exxon and Shell currently have female chief financial officers and Chevron will appoint one within the next six months.
But in oil and gas, CFOs and general counsels rarely claim the top job: For CEOs, the industry tends to anoint candidates from the technical ranks. And women occupy only about 10% of technical and operational roles at any level of seniority, according to BCG.
When women do become managers in non-technical roles, they often don't make it to the C-suite. In a 2021 study, the International Energy Agency found a "particularly acute" disparity between women in lower and senior management, with just 5% occupying top posts in the industry.
"All of this suggests that a further glass ceiling exists beyond the glass ceiling to enter senior management in general," the IEA said.
BCG also found the number of women in business roles dropped 50% between mid-career positions and the higher ranks. And those women don't tend to drop out of work — they join other industries.
"The reason for the decline may be that skills developed in these areas are more readily transferable to jobs outside the oil and gas industry," said the BCG authors. If their existing employers don't create an inclusive environment, they'll leave, the report said.
In Australia, a 2022 government probe into discrimination into the resources industry found that almost half of Chevron Corp.'s employees in the country reported being bullied. A third said they had been sexually harassed in the previous five years.
In 2019, a Bloomberg News investigation of the Houston-based Anadarko Petroleum Corp. found a company where women often experienced sexual harassment and executives regularly had sex in their offices.
Last year, a separate Bloomberg investigation found that Exxon suffered substantial attrition during the pandemic due, in part, to a fear-laced culture that rewarded employees who looked and sounded like their managers. Exxon said this characterization is false.
Fortunately for BP, the company is more gender balanced than most of its industry peers. Women make up 39% of employees and 30% of senior leaders, both higher than before the pandemic. By 2030, BP aims to have women to fill at least half of its roughly 400 leadership roles and 40% of the positions at every other level, according to a company spokesperson.
In the wake of Looney's departure, six of BP's 11 top-ranked executives are women. Anja-Isabel Dotzenrath, executive vice president of gas of low carbon energy and Carol Howle, executive vice president of trading, lead the internal list of CEO candidates. Both would represent a departure from BP's culture of promoting engineers with extensive experience in operational roles in its oil and gas assets.
Appointing a woman to the CEO job at BP  "would send a message that this sector appreciates diversity of thought, background and gender which are essential in taking on the energy challenges of the future," Mehnert said.
"BP has an opportunity to be the first."
Recommended for you

BP's urgent search for a new CEO: Who's on the list?