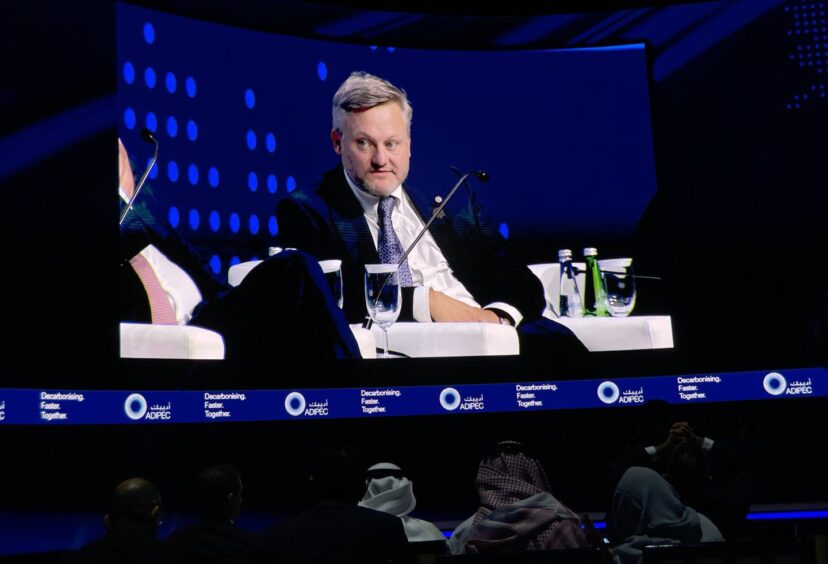 BP has flagged supply chain issues as slowing its plans, while saying projects such as North Sea electrification would require more government support.
Interim CEO Murray Auchincloss said the company's strategy was unchanged, despite the rapid and unplanned exit of his predecessor Bernard Looney.
"Strategy is not the embodiment of a single individual," Auchincloss said at Adipec. "The board has been highly committed and performance is good."
However, "the supply chain is really tight" in oil and gas. "If you try to do too much, you go backwards in terms of efficiency."
In terms of the company's energy transition ambitions, there are a variety of constraints, including the supply chain but also around transmission and permitting, he said. "I would love to move faster but we just have to work through it, country by country."
Auchincloss also expressed surprise at how fast progress has occurred in hydrogen, attributing this to the presence of state-backed incentives.
BP "now has a chance to take all the grey hydrogen and start to decarbonise those refineries around the world. At the same time, we will oversize and create a traded product."
Harder wins ahead
Gordon Birrell, BP EVP of production and operations, also noted the company's ambitions to shift from grey hydrogen to green and blue over this decade.
The company's energy transition strategy has been economic over the last three years, Birrell said. He cited the example of capturing fugitive methane emissions and selling it, rather than flaring or venting.
In the North Sea, BP is working with partners to try to electrify the Central North Sea and West of Shetland, Birrell continued. "The Northern North Sea is more of a challenge".
"We're now moving into the next tranche of opportunities, which is more of a challenge," he explained.
"Without some form of government support, [North Sea electrification] will be quite tricky, but we continue to push forward to see what is possible."
The company makes its decisions around low-carbon hydrogen for refineries as a result of the cost of carbon. A carbon tax or price would see the cost of grey hydrogen increase, making lower carbon options more attractive. "It depends on how the world evolves," Birrell said.
In the meantime, BP will continue to invest in oil and gas, Auchincloss said. "The world needs oil and gas today. We will continue to invest and to decarbonise because the transition will take time."
Recommended for you

How the UK is a leader on emissions