North Sea storms have continued to plague the troubled Rochelle field after production start-up was delayed agin.
The W1 well on the field, which came online last October, was shut in earlier this year while installation of the new E2 well was completed.
But one of the partners in the project, Endeavour, has revealed the restart has been further delayed after technical problems and punishing weather conditions left the facility stood down.
The firm confirmed a valve on the production manifold has been stuck in the shut position, and will require an intervention vessel to open it again.
With the North Sea conditions continuing to prove problematic, the start-up has now been delayed, with no definite date confirmed.
"While the current situation regarding the Rochelle infrastructure is frustrating, operating safely within the North Sea environment is paramount," said Endeavour chief execute William Transier.
"In no way does this affect the field's long-term production capacity or reserve potential.
"We are confident that the valve will be repaired and that the field's production will resume."
The Nexen operated field, around 115 miles north east of Aberdeen, had been producing around 70million cubic feet of gas per day, and up to 3000 barrels of oil equivalent before shutdown.
Recommended for you
X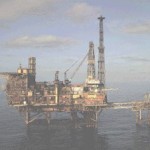 Probe launched after two injured during North Sea crane incident