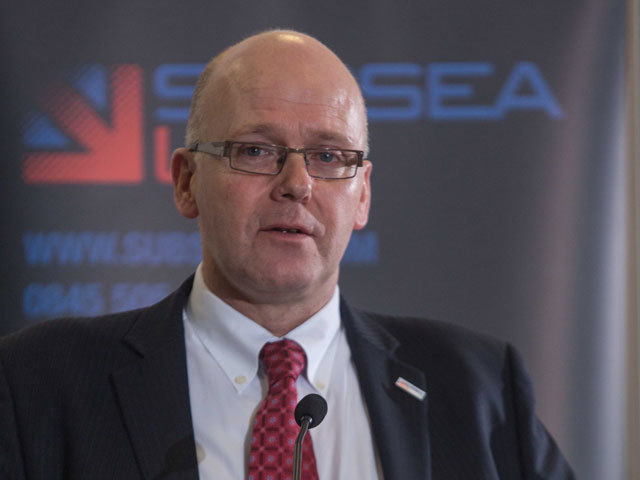 The head of Subsea UK has warned against making the organisation's annual expo too big – despite the 2014 show closing with a record attendance.
The event, marking the 10th anniversary of the industry body, wrapped up a three-day run with more than 5000 visitors attending the Aberdeen Exhibition and Conference Centre.
"Everyone keeps saying congratulations, you keep raising the bar," Subsea UK chief executive Neil Gordon told Energy Voice.
"We've hit the 5000 visitors mark which is great. 4000 last year, 5000 this year, plus the place has been buzzing today.
"The thing is, you don't try and pus the bar so you can't get over it. It's about continuous improvement. Everyone says the mix is right. If you make it too big you lose the human element.
"I think you can always polish a bit more, but we'e got to be careful we don't push the bar too high. Let's not try to fix something that's working very well."
The positive mood at the show was reflected in talk of a subsea 'bubble', as the sector's value reached almost £9billion last year.
The growth of the event was an indicator of the current strength of the subsea industry, Mr Gordon said, with the North Sea leading the way globally.
"We are going through a very strong growth period, the service companies are in the driving seat and it's a very good time – long may it last," he said.
"But you're always going to look at what could be round the corner. We've always got to look at how we continue to be a global centre of excellence here and make it the best place to do business from.
"There are other parts of the world that want our knowledge and skills, and we've got to think how we do that."
The final day of the expo focused on the next generation of oil and gas workers, with more than 400 children and students from across Aberdeen and Aberdeenshire attending to learn about routes into the subsea industry.
The move follows a similar approach at Offshore Europe last year, and comes as the oil and gas industry looks to address an increasing skills gap that saw industry leaders call for an end to a staff-poaching culture that has driven up salaries.
Mr Gordon admits the student-focused day was the first step in trying to address that gap, but warns more needs to be done to interest future energy industry workers.
"If you look at oil and gas in total over the years we've been a very reactive industry and there's a lot of proaction going on now to try and improve that perception," he said.
"We've got to tell the world what's going on and put out some resource in dealing with the schools and engaging with them. It's happening, but we've a long way to go."
Watch our video on the expo's efforts to engage young people below
Recommended for you

Coping with Covid and training for the future