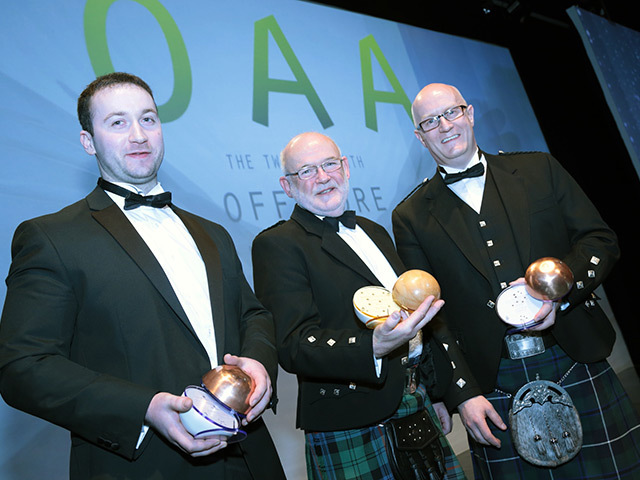 Oil and gas industry veteran Brian Nixon was recognised for his contribution to the energy sector at last night's Scottish Offshore Achievement Awards.
Mr Nixon, the outgoing chief executive of Decom North Sea (DNS) and former energy team director at Scottish Enterprise (SE), came away with a gong for significant achievement.
The industry's annual "Oscars" – now in their 28th year – came as he prepares to step down as chief executive of DNS, the Aberdeen-based industry body focused on maximising business opportunities from offshore decommissioning.
Mr Nixon was sales and marketing director at Wood Group Engineering before he joined economic development quango SE in September 2001.
He joined DNS at the start of 2010 and announced late last year that he planned to give up the job in 2014.
Collecting his award, Mr Nixon said: "It couldn't come at a more appropriate time as I will shortly be decommissioning myself and heading into partial retirement.
"The award recognises not just my efforts, but also those of the quite exceptional team that I have at Decom North Sea."
DNS was launched in 2009 and now has more than 230 members from a wide range of businesses from operators to supply chain companies.
Watch our video from the event below
Other accolades last night included a posthumous significant achievement honour for Steve Walton, who was one of Wood Group's longest serving employees. His widow, Anne Marie, collected the award.
Mr Walton, who died last year, was regularly recognised for his role in developing and championing safety offshore and was in the industry's Step Change in Safety leadership team.
He joined Aberdeen-based Wood Group in 1989, working for more than 20 years as a materials controller and safety representative.
Dave Stewart, WGPSN UK managing director, also added a tribute to Mr Walton.
He said: "Steve was a great guy and a very active and inspirational safety representative. He was hugely respected by everyone at Wood Group and all those who had the privilege of working with him, especially his offshore family.
"No one is more deserving of this award than Steve and his legacy will continue in this industry for a long time to come. He positively influenced us all."
The award for great large company went to Hydrasun, with fellow Aberdeen firm Coretrax taking the great small company title.
Hydrasun chief executive Bob Drummond said: "It is a fantastic achievement and clear recognition of everyone at Hydrasun's hard work and dedication, and of the strong growth, development and overall performance of the company in recent years."
Hydrasun's sales have doubled over the past four years, to around £120million for the company's current trading year to March 31.
Two new categories for this year – environmentalist and inspiring leader – were won by TWMA and Steven Nicol of Halliburton respectively.
More than 500 industry professionals attended last night's ceremony at Aberdeen Exhibition and Conference Centre.
The Society of Petroleum Engineers' Aberdeen section organised and hosted the awards for the third successive year, with the support of main sponsor Taqa.
SPE Aberdeen director Ian Phillips, of Pale Blue Dot Energy, said: "Judges were impressed with this year's nominations, which were of an exceptionally high calibre and demonstrated expertise, innovation and great promise."
Awards and winners:
Great large company, sponsored by Offshore Europe – Hydrasun.
Great small company, sponsored by Wood Group PSN – Coretrax.
Working together, sponsored by the Robert Gordon University – The Underwater Centre.
Environmentalist, sponsored by Amec – TWMA.
Export achievement, sponsored by Saltire Energy – EV.
Safety innovations, sponsored by Petrofac – Stork.
The innovator, sponsored by BG Group – Tendeka.
Emerging technology, sponsored by Nexen – Guardian Global Technologies.
Young professional, sponsored by Maersk Oil – Raymond MacKenzie, Nexen Petroleum UK.
Inspiring leader, sponsored by DOF Subsea – Steve Nicol, Halliburton.
Significant achievement, sponsored by Aker Solutions – Brian Nixon, Decom North Sea; and, posthumously, Steve Walton of Wood Group.