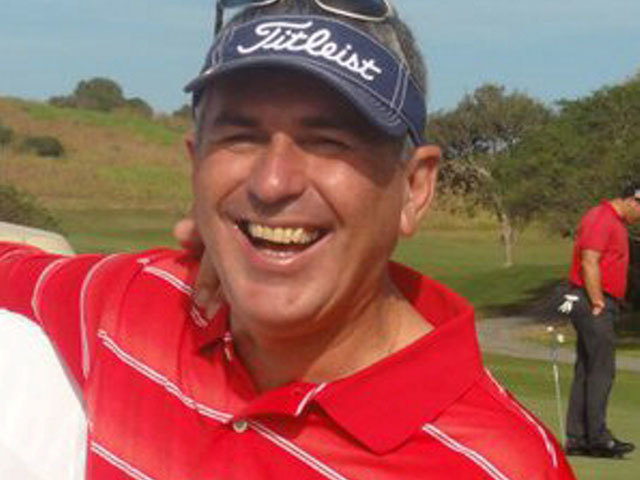 A Scottish oil worker has been shot dead in a bungled carjacking in Brazil.
Peter Campsie was killed by two gunmen in Rio de Janeiro who tried to steal his Lexus.
The 48-year-old father-of-three was shot twice as he tried to flee the moving vehicle.
He is understood to have died instantly while the gunmen vanished empty-handed, leaving the badly-damaged car at the scene.
Mr Campsie, operations manager for Diamond Offshore Drilling International, had been returning to his home at Macae, three hours north of Rio, following a business meeting when the attack happened in the Niteroi area of the city.
Last night, his relatives in the north-east were preparing to fly to South America to comfort his wife, Janaina, and 10-year-old daughter, Joy. They spoke of their shock at the violent death of a "loyal friend and father, brother and son".
In a statement last night, the family said: "He was a man who loved life and brought so much joy and laughter to those around him. Wherever Pete went, the good times followed. A darkness has fallen on us all as we try and make sense of why Pete had to die in the prime of his life.
"He was a loyal friend and father, brother and son who cared deeply about making sure everyone got the best out of their lives. Our anchor has been pulled away so cruelly."
Mr Campsie, who started his career as an apprentice welder at Glaxo in Montrose aged 16, also has two sons Bob, 21, of Montrose, and Steven, 16, of St Cyrus.
He is survived by his mother Robbiecorr, of Montrose, brother Ionecorr, of Glasgow, and sister, Alison – assistant news editor at the Press and Journal – from Johnshaven.
His father Alistair, a well-known journalist, author, hotelier and musician, died in April last year.
Police inquiries into the exact circumstances of the shooting are continuing but Mr Campsie is understood to have been driving through Rio late on Wednesday afternoon when a car drew up beside him and he was accosted by two men carrying guns.
Relatives have been told he tried to get out of the car via the passenger door while it was still moving.
Another driver tried to help but was scared off by the gunmen.
The Foreign and Commonwealth Office has been in touch with his family in Scotland and assured them that pressure will be put on local authorities to investigate the shooting fully.
Mr Campsie moved to Brazil 16 years ago and, according to his relatives, had found great happiness in the country where he had a very loving family and a huge circle of friends.
"He absolutely adored his wife and daughter, who he called the Two Js," they said. "Both the expat community and his Brazilian friends have expressed shock at the violent incident."
However, a large part of his heart remained at home in Scotland.
"While he loved his adopted homeland he was always happy and excited to come back to the north-east to see his family and many friends here," the family said. "He was never more at ease than at the Golf Inn in Montrose drinking a pint of lager with his pals.
"Pete was a golf fanatic and would return home to Scotland with his clubs to play the many courses in Scotland.
He and his friends were in the process of building a golf course in Macae – a project which he approached with typical passion.
"Just days before his death he was celebrating the news that the project had been given the full go-ahead.
"It is with great sadness that he will never see the course fully completed. It had been hoped it would be used for the Olympics in 2016."
The family said they had been comforted by the many messages of support they had received from near and far.
"Pete genuinely touched many, many lives and our hearts break for the loss of this great man," they said.
Recommended for you

Brothers fighting fraud charges from India are flourishing in Nigeria