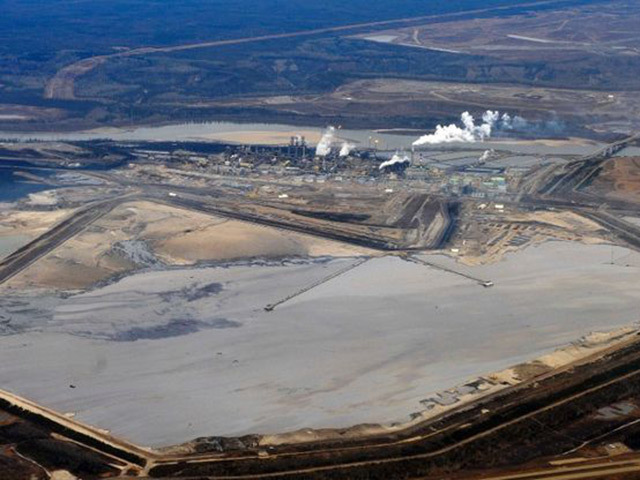 Canada's largest oil producer has reported record profits in the first quarter of this year as it benefited from the long transport of crude from the country's landlocked province of Alberta to the US and Canadian coasts.
Suncor Energy moved as much as 70,000 barrels per day of crude, or about 13% of its output, on TransCanada's Gulf Coast pipeline in the period, helping the company earn higher prices, it said in a statement.
At the same time, Suncor used rail cars to supply its refinery in Montreal with 20,000 barrels a day of cheaper Canadian oil, replacing more expensive imported feedstock.
Like domestic competitors producing bitumen from Canada's oil sands, Suncor is slowly expanding its shipments to coastal markets while it waits for pipelines like TransCanada's Keystone XL and Enbridge's Northern Gateway to be built.
In the meantime, the company is cobbling together a system of rail transport and space on new and existing lines to get its fuel to new markets.
"The successful implementation of our long-term market access strategy positions us well for the future," said Steve Williams, Sancor's chief executive.
The strategy helped produce record earnings for Calgary-based Suncor in the first quarter. Both operating profit at $1.57billion (£930million), or $1.22 a share, and cash flow from operations at $2.61billion were quarterly records, Williams said in the statement.
Suncor gained 0.9% on Monday, bringing this year's increase to 11%. Canada's Standard & Poor's/TSX Energy Index has risen 14% this year.
Canada's oil producers have had to work around transportation delays that risk slowing the pace of investments in oil sands that may reach $29billion this year.
Keystone XL, first proposed by TransCanada in 2008, has been delayed at least three times, most recently on April 18 by the US State Department. Enbridge's Northern Gateway, which is opposed by aboriginal and environmental groups, is awaiting approval by Prime Minister Stephen Harper.
Other pipelines that have been proposed to cope with surging production of oil sands crude include Kinder Morgan Energy Partners LP's Trans Mountain and TransCanada's Energy East.
Working around transportation bottlenecks helped increase prices in the first quarter for North American crudes. West Texas Intermediate averaged $98.61 in the quarter, 4.5% higher than a year earlier, while Western Canada Select, the benchmark for Canadian heavy crude, averaged 16% higher at $77.76.
Oil sands production is forecast to almost triple to 5.2million barrels a day by 2030, from 1.8million barrels a day in 2012, according to an outlook by the Canadian Association of Petroleum Producers, an industry lobby group. Currently most of Canada's oil is shipped to the US.
Recommended for you

BP exits Canadian oil sands, doubles down offshore