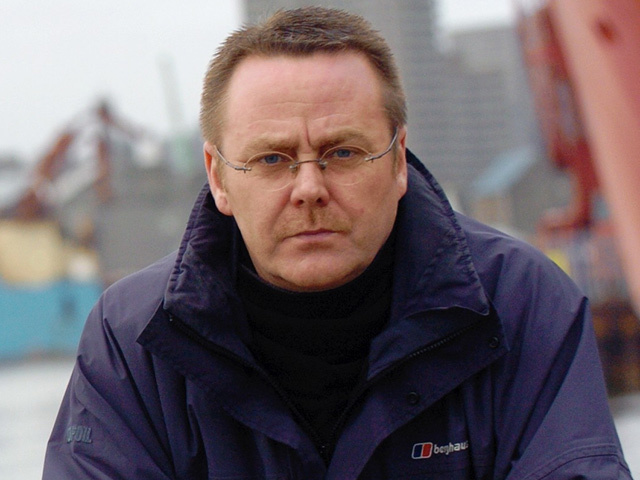 Jake Molloy, regional organiser for the RMT union, today reacted after it was confirmed a major police investigation has been launched.
The move came after a suspected stash of cocaine was found on a North Sea oil platform.
Jake said he was "disgusted" by the discovery – and criticised the "selfish" person who took the drugs onboard.
"This is disturbing news, especially if it's proved to be cocaine," he said.
"I've never come across anything like this before. It's unacceptable in society on the street, far less a major hazardous industry.
"This has put a stain on the character of every member of staff out there as everyone has needed to be tested.
"It's just a pity that all the good guys, all the rest of the crew, have had to be tarred with the same brush.
"At the same time I hope they will accept that they have to find this individual who felt it appropriate to put all of their lives at risk and get rid of them.
"This person has been stupid and selfish. It is complete and utter madness."
Medics have drug-tested 150 workers on the Piper Bravo after a number of wraps containing white powder were discovered.
The substance will be tested at a laboratory in Aberdeen today and is expected to be confirmed as the Class A drug.
Last night, operator Talisman Sinopec Energy UK said it was doing everything possible to establish exactly what the powder was and how it got offshore.
A spokeswoman for the company said it would not tolerate illegal drug use on any of its installations.
"Following the discovery of an unknown substance on the Piper Bravo platform, we contacted Police Scotland," she said.
"In line with our company procedure, all personnel on board have undergone substance-testing by medics.
"As this matter is being dealt with by Police Scotland, it would be inappropriate to comment further at this time.
"Talisman Sinopec Energy UK operates a zero tolerance approach to illegal substances."
Mr Molloy said it would be incredibly difficult to smuggle illegal substances offshore because of the strict security procedures workers must go through every time they fly.
Bag and body searches are carried out at all helicopter terminals and staff must also undergo regular medical tests.
Bristow Helicopters won a £100million, 10-year contract with Talisman in 2005 to fly workers to its North Sea operations.
Last night, no one from the company would comment.
"If security smells a hint of alcohol on your breath or thinks you might be under the influence, you will be taken away to be tested," said Mr Molloy.
"In addition, random testing could happen at any time.
"I don't know what more can be done short of X-raying every individual who goes offshore.
"Thankfully this is very rare and hopefully it will never happen again."
A police spokeswoman confirmed officers had launched an investigation after being alerted to the find by Talisman on Saturday.
"We are working with Talisman Sinopec Energy UK to identify what the substance is," she said.
"We fully support (the company's) zero tolerance approach to illegal substances."
Piper Bravo is located about 120 miles north-east of Aberdeen.
It was installed in 1992 and started production in February 1993. It replaced the Piper Alpha platform which exploded in July 1988, killing 167 men.