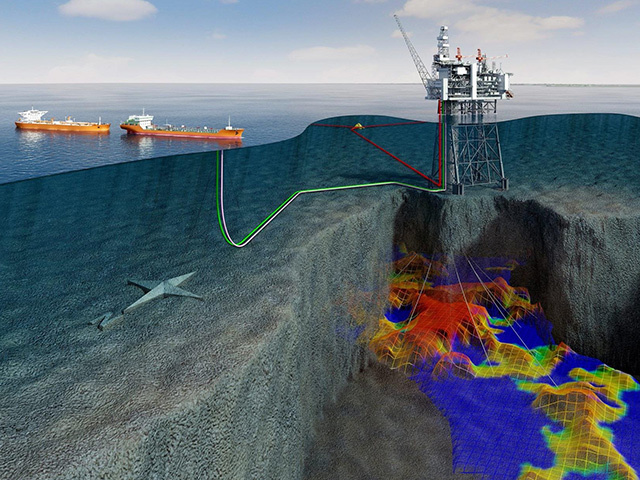 Eighteen months ago, the UK's Department of Energy & Climate Change approved the development plans for Mariner, a heavy oilfield that was discovered in 1981 but which failed to make the commercial grade until acquired by Statoil and re-engineered.
The $7billion project is the largest new offshore UK North Sea development in over a decade though, for sheer scale, BP's phased Clair field development eclipses it.
At the heart of Mariner will be a large steel jacket production, drilling and quarters platform with a 320,000 barrels per day liquids handling capability, plus an 850,000 barrels capacity floating storage unit.
Mariner is expected to have a 30-year field life and should start production in 2017. An average daily output rate of 55,000 barrels of oil per day is currently anticipated during the plateau period from 2017 to 2020, though this may change depending on reservoir performance. Plated production capacity will be 80,000bpd.
The field is located on block 9/11a, 150km east of Shetland. Statoil built its position in two phases by acquiring a 44.4% operating interest in 2007 and adding a further 20.67% in 2010
Estimated gross reserves . . . stock tank barrels of oil in place . . . is nearly 2billion of which Statoil is currently targeting 250million in both Maureen and Heimdal formations.
Though extensively appraised during Texaco's (later ChevronTexaco) era, Mariner has always challenged.
According to Statoil's Ingolf Soreide, the Heimdal sands proved difficult to image on seismic data. However, by making use of ocean bottom seismic (OBS) it has been possible to acquire a good image of the sands, though resolution was lower.
An Isometrix broadband streamer survey was acquired in 2012, which delivered data quality better and at least equal to OBC.
It is helping with improved Heimdal reservoir mapping, which is important given the sheer number of wells that are to be drilled.
Seismic and advanced geo-steering will help add confidence to detail well planning, according to Soreide.
Risks faced by Statoil with this project include:
o Low recovery rate, dependent on well spacing
o Low production rates due to low flow rates and possible early water breakthrough into the wells
o High production cost because many complex horizontal and high-angle wells will be required
o Large processing capacity with large energy needs for crude heating and water injection operations
o Heavy crude will fetch lower prices than classic North Sea oil.
The company is, however, very optimistic and is clear about the differentiating technologies that will be required, including: multi-lateral wells, advanced geosteering, autonomous inflow control valves to reduce water influx, infill wells, optimising water injection for sweeping the reservoir and polymer injection to also help with sweeping operations.
The current well-plan is massive . . . more than 130 well targets . . . to be drilled via 50 platform slots. Re-injection of produced water will be a huge and crucial operation too.
The Maureen reservoir will feature 17 producers; all long horizontals; plus five injectors (slanted).
The Heimdal will eventually have 39 producers based on slanted dual bore well; and 32 Injectors – slanted singles.
The lower completions of horizontals will feature stand-alone sand screens and inflow control devices (ICDs), while dual-branched wells will be fitted with inflow control valves for branch control.
Upper Completions will carry electrical submersible pumps and a downhole diluent (light-oil) injection system to help reduce ESP power requirements and reduce flow assurance risk.
Soreide explained that diluent injection will also help with improved separation of reservoir fluids, help reduce separation temperature, assist with storage and transportation of the Mariner blend at lower temperatures because the mix is more mobile than the heavy stuff on its own, and would assist with marketing output to north-west Europe refineries. He added that this approach has been successfully tested at the Posgrunn heavy oil test loop.
Turning to main contracts awarded, the following are the milestones to date:
Engineering, procurement and construction (EPC) of the platform's steel jacket went to Dragados Offshore, with SNC Lavalin engaged in detailed engineering.
The topsides work went to Daewoo Shipbuilding & Marine Engineering in South Korea with UK-based RDS as engineering subcontractors.
Daewoo subsequently awarded a contract to Aker Solutions to provide the drilling equipment package for the production platform.
Odfjell in the UK secured the platform-based drilling services contract worth about $245million. Contract duration is four years beginning November 2016 with three two-year options. Odfjell will also provide engineering and commissioning services during construction and start-up of the Mariner platform.
However, it was Noble Corp that won a four-year, $655million contract to provide development drilling services using a new-build jack-up based on Statoil's Cat J specifications.
The rig will be an enhanced version of GustoMSC's CJ-70 design. Development drilling is expected to start between May and September 2016.
Subsea 7 bagged the $170million contract covering the engineering, procurement, installation and construction (EPIC) of 24-mile rigid flowlines and flexible riser systems with associated subsea structures, protection systems and tie-ins. Offshore activities will begin in 2015 with project completion expected in 2016.
Finally for now, Statoil awarded EMAS AMC a $126million firm contract for the transportation and installation of the Mariner (and Heidrun) floating storage units (FSU) with an option for a third FSU installation. The work scope includes pre-installation of mooring systems, followed by the transport, hook-up and installation of the FSUs in the fields. The vessels are being built by Samsung of South Korea.