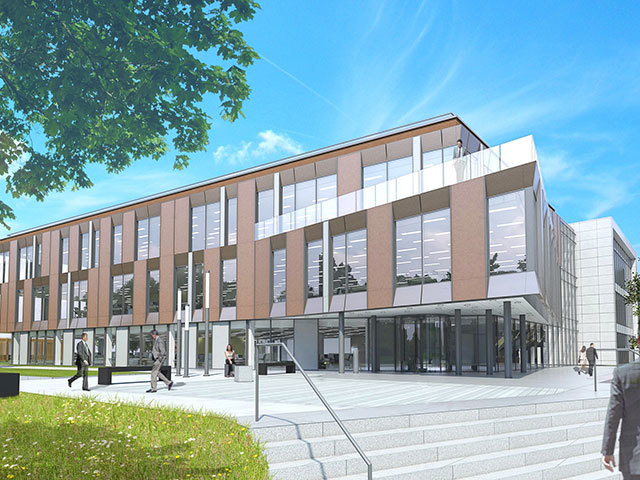 Detailed plans for Statoil's UK headquarters have been submitted to Aberdeen City Council.
The new building's exterior will combine Aberdeen granite with Norwegian-style wood to symbolise the Scandinavian oil giant's commitment to the city, the firm said.
Statoil and Drum Property Group, developers of the Prime Four business park at Kingswells, have finalised plans for a 45,000sq ft office.
The development will be smaller than initial proposals for a 60,000sq ft office complex, although the plans include potential to expand to 90,000sq ft. Gunnar Breivik, managing director of Statoil Production UK, said the company had looked at a potential 28 sites across the north-east for the location of their UK headquarters.
Its shortlist of four did not include developers Gibson McCartney's proposed £90million redevelopment of the Marcliffe Hotel and Spa, he said.
The developers have since scrapped plans to redevelop the hotel site into an office.
The new office at Kingswells will be Statoil's main UK base as it develops the £4.5billion Mariner field, about 80 miles south-east of Shetland, for 2017. The company has also restarted plans to develop the nearby Bressay field which had previously been put on hold due to spiralling costs.
Statoil plans to double the number of its Aberdeen-based staff to 200 next year. They currently occupy serviced offices in the city centre.
Mr Breivik said: "The exterior is a combination of Aberdeen granite and something resembling Norwegian wood. This in a way symbolises our commitment to Aberdeen.
"We bring with us experience that we hope can contribute positively, while we are eager to learn and become a part of Aberdeen and its successful oil and gas industry," he added.
The move comes as the business park's developers confirm it has invested £200million into the Prime Four project, which it says will generate an estimated £450million for the economy when it is complete.
Graeme Bone, Drum managing director, said: "Our commitment to cutting-edge architectural, landscaping and design principles has created a development of national economic significance."
Recommended for you

Interview: New CEO at Wood Ken Gilmartin feels like he's 'coming home'