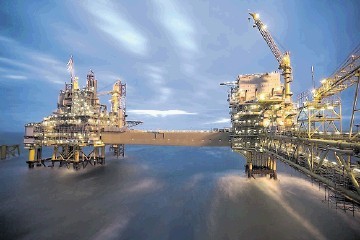 The oil and gas industry is facing a radioactive waste crisis which could force some platforms to shut down, Energy Voice can reveal.
More than 1,000 tonnes of naturally occurring radioactive material (Norm) builds up on offshore drilling equipment every year.
Up until now, energy firms have been allowed to dispose of the waste in the sea or re-inject it.
However, there are growing fears that OSPAR – the pan-European body set-up to protect the marine environment – could be about to ban such discards.
Last night, industry body Oil and Gas UK warned that such a move would force many platforms to shut down for good.
The UK is a signatory of the OSPAR Convention on the protection of the North East Atlantic. However, a UK and Scottish government paper seen by Energy Voice admits that there is "potential" for OSPAR to "revisit the practice of disposal to sea".
"This would lead to significant additional volumes of solid norm waste being brought ashore needing a disposal route," the paper says.
The industry discharge to sea of norm has been the subject of close scrutiny by the EU and OSPAR for some time.
There is no evidence that these discharges are harmful to the environment or to human health – in fact, there is evidence that the discharges are not harmful.
"In environmental terms, the discharges are within the capacity of the environment," said Mick Borwell, Oil and Gas UK's environment director.
"To stop these discharges and to require onshore disposal would be against one of the basic tenets of environmental management – that you should not transfer discharges that are not shown to have an environmental impact from one 'environmental compartment' (the marine environment) to another compartment (the land environment) where it could have more impact, such as through transport and use of landfill capacity.
"A requirement to cease offshore discharges would ultimately result in the early cessation of production and decommissioning of some installations."
Recommended for you

Electrification could trim 87% off North Sea platform emissions, studies find