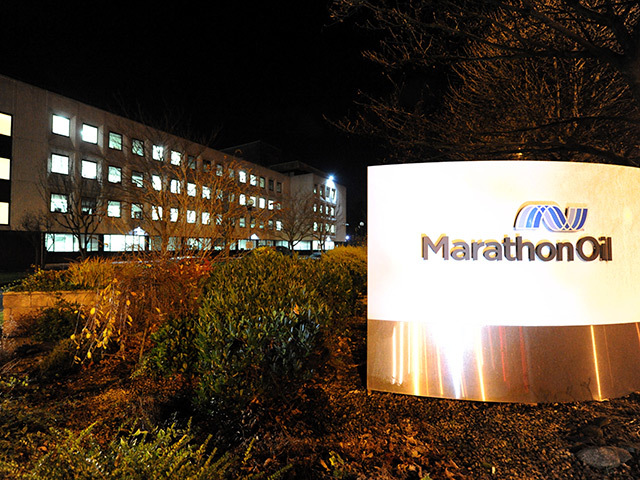 Marathon Oil has suffered a huge production slump at the North Sea assets it unsuccessfully tried to sell.
The Houston firm put its Norweigian and UK fields on the market late last year as it sought to focus its resources on US shale gas.
It sold the Norweigian arm to Det norske for £1.6billion, but announced in June that it was staying in Aberdeen, safeguarding nearly 800 north-east jobs.
Figures released by the oil giant last night revealed that average production from its UK assets had dropped by nearly 40% to 14,000 barrels a day during the second quarter of the year.
That is down from 22,000 barrels a day during the same period last year, and the company has warned that maintenance could further cut production during the third quarter.
A spokesman said: "Production available for sale averaged 14,000 net boed (barrels of oil equivalent per day) in the second quarter of 2014 compared to 22,000 net boed in the second quarter of 2013 primarily as a result of reliability issues at the outside-operated Foinaven field, as well as natural decline within the Brae fields and planned and unplanned maintenance activities that resulted in lower overall operating availability.
"Planned maintenance activities on the outside-operated Forties Pipeline System are expected to impact Brae production in the third quarter of 2014."
Marathon has had a significant North Sea presence for two decades.
It operates the South, Central, North and West Brae fields, as well as holding stakes in the East Brae and Braemar fields.
It also operates the Brae-Forties pipeline, and has stakes in the Foinaven field west of Shetland and the Sage pipeline to the huge St Fergus gas terminal.
The company has 213 onshore staff at its offices at Rubislaw Hill. It has a further 172 people offshore in UK waters and more than 400 contractors.
Despite its North Sea woes, profits actually jumped at Marathon during the second quarter, driven by a strong production growth and higher crude oil and condensate prices in the United States.
Globally, the company expects the region to produce 235million to 248million barrels oil equivalent per day (boed) in the third quarter, compared with 200million boed produced in the corresponding quarter last year.