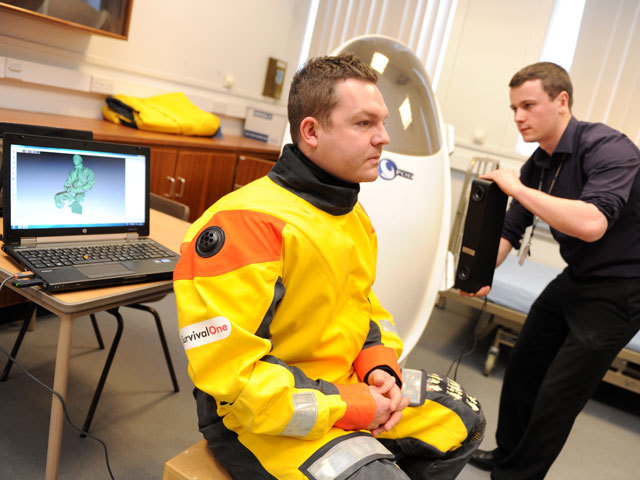 A landmark legal bid to have obese people officially classed as disabled could have "widespread and expensive" consequences for businesses, a leading Scottish law firm has warned.
But it would also offer crucial protection to offshore workers who fall foul of new helicopter safety legislation limiting the size of people travelling to oil and gas platforms.
The Advocate General – the European Union's most senior legal adviser – has ruled that being overweight qualifies as a disability following the sacking of Karsten Kaltoft, a 25-stone child-minder from Denmark.
His opinion needs the final backing of the European Court, but if ratified will force widespread changes in the way bosses deal with staff.
Employers would have to find ways of accommodating overweight workers so that they are not at a disadvantage to their slimmer colleagues.
The Civil Aviation Authority (CAA) previously announced that oil workers who could not fit through a helicopter's emergency window while in a survival suit would not be allowed to fly from April next year.
The ruling led to fears that the jobs of thousands of staff would be put at risk.
But the regulator insists that options were being explored to avoid any negative impact.
"It is easy to see that with obesity on the increase, the cost to the state and private enterprise of 'fat rights' may be too much for the UK Government to bear," said Neil Fraser, employment law partner at Aberdein Considine.
The court's final ruling will be binding across the European Union, including the UK.
It follows a similar employment tribunal case in England last year where a judge decided a 21-stone man did qualify as disabled.
Mr Fraser added: "The implications of the English decision have still not been fully felt, and a similar decision by the European Court may bring these issues into sharper focus.
"The Equality Act 2010 goes beyond the workplace – it gives protection to disabled people in many areas including education and transport.
"Clearly the consequences of formal legal rights and protections for the obese could be widespread and expensive."
Under current laws, if you have an impairment – physical or mental – which has a substantial and long term adverse effect on your ability to carry out day to day tasks, then you are disabled.
There are certain conditions which could pass that test, but which parliament has deliberately decided should not qualify.
These include alcoholism or drug addiction, tendencies to steal or start fires, or to physically or sexually abuse others. Hay fever – which affects one in four – is also specifically excluded.
"As things stand, because obesity is not a disability, discriminating against the obese is not unlawful," Mr Fraser said.
"However, discriminating against people who have serious problems arising from their obesity can be unlawful. In effect it does not matter whether the reason someone cannot walk 100 metres unaided is because they are obese or one legged, you cannot discriminate against them.
"A common reaction is 'being fat is a self-inflicted choice, so why the special treatment?'. The Advocate General's response is to say it is unfair to look at the cause of the disability, otherwise people seriously injured in other reckless conduct such as rugby playing, skiing, or dangerous driving would also fail to qualify as disabled.
"This argument does not deal with what in my view is the more important point, which is not to focus on the original cause of the disability, but the reason that the disability is long term.
"There is no amount of resolve that will regrow a severed limb; the same is generally not true for losing weight."
The case will go before the European Court for a final decision later this year.
Recommended for you

Jeremy Cresswell: The failings of Diversity & Inclusion in UK offshore energy