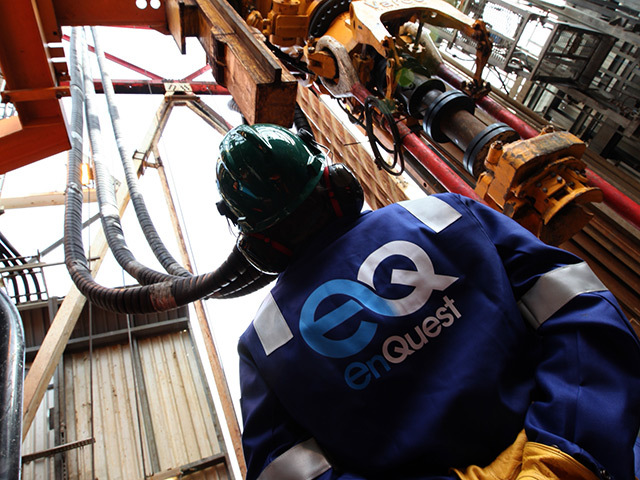 Strong production from oil fields around Scotland has boosted EnQuest's first half revenues by 11% to £300million.
The oil and gas firm produced an average 25,292 barrels oil equivalent daily in the six months to June, up 18% from 21,455 in the same period last year.
A substantial deterioration in production efficiency has become a huge problem in the North Sea in recent years.
According to Oil and Gas UK, it has fallen from 80% to 60% in the past decade. The North Sea's aging infrastructure is partly to blame, and a lack of investment in some assets has also played a part.
But EnQuest owns some of the oldest assets in the basin – so why is its efficiency getting better?
"We have invested heavily in our assets," said Amjad Bseisu, the firm's chief executive.
"We are very pleased with our production efficiency, because some of our assets are 30 years old.
"Our efficiency has gone from 83% to 90% because these things are material to us – it is important for us that we invest in our assets.
"We invested $450million in the Thistle Platform on things like new control systems and new power systems and it has increased production significantly.
"So investment in assets is important for us. But it is probably not as material for other companies.
"Production efficiency is something we look at every day – it is important to our people."
On Tuesday, North Sea explorer Trapoil revealed a dramatic boardroom cull to try to remain afloat, blaming tough trading conditions.
However, Mr Bseisu says EnQuest retains the financial firepower to thrive in what is a "difficult" basin.
"It is challenging," he said.
"You need to have the financial strength to invest."
The Aberdeen-based firm said its £4billion Kraken project, east of Shetland, is proceeding on time and on budget, with the Tyrone appraisal well due to be drilled in the second half of the year.
First oil from Kraken, in which the group has a 60% stake, is expected towards the end of 2016. The field is estimated to contain about 140 million barrels of gross oil reserves.
Chief executive Amjad Bseisu said: "In 2014 so far, EnQuest has again delivered good growth in reserves and production.
"Production was up 18% in the first half of 2014 and acquisitions, combined with the new development contract award in Malaysia are expected to result in an incremental increase of approximately 20 million barrels of oil in net proven and probable reserves."
Recommended for you

BP and Equinor low carbon projects among those shortlisted for govt funding