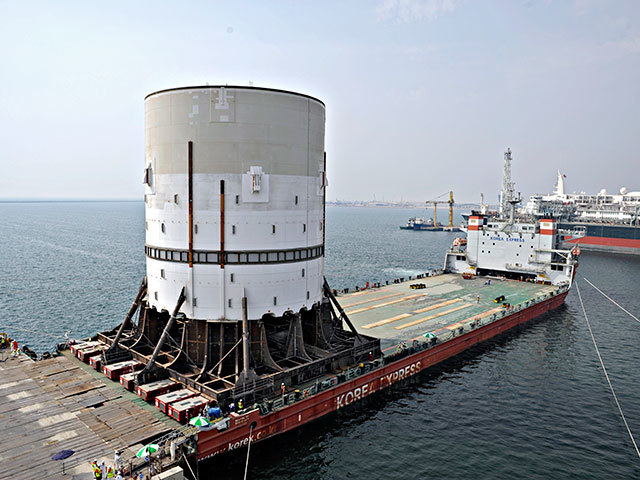 The largest piece of the turret for Shell's Prelude Floating Liquefied Natural Gas (FLNG) facility has set sail.
The turret, which is part of the mooring system, has set sail from Dubai for the Samsung Heavy Industries shipyard in Geoje, South Korea where the rest of the facility is currently under construction.
The final product will eventually be deployed in Australia for the next 25 years.
It's expected to produce about 3.6 million tonnes of LNG a year. The FLNG will allow Shell to cool natural gas produced at sea before it is pumped directly into ships that will then make the final transports. The system is a more cost effective method than the development of a fixed offshore gas field, according to the company.
"Prelude FLNG combines our many years of experience in shipping and in managing complex LNG and offshore projects. It's great to see our innovative designs and technologies become a reality as we reach significant project milestones like this," Matthias Bichsel, Projects & Technology Director at Shell said.
"Designed in Monaco, built in Dubai, shipped to South Korea and for use off Australia, the turret is an example of the truly global nature of this project."
After its 25 year Australian stint, Prelude FLNG will be refurbished and redeployed for a further 25 years.
Recommended for you

Big Oil wins big in ScotWind – Shell, TotalEnergies and BP land acreage