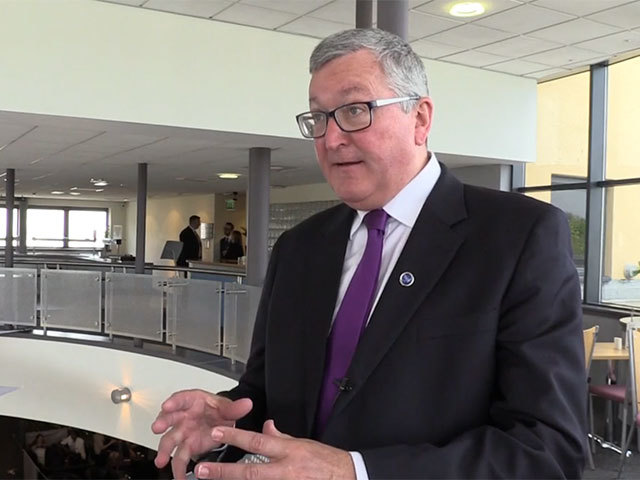 The Scottish Government is to oppose controversial plans that would remove the right of people to object to fracking companies drilling below their homes.
The UK Department of Energy and Climate Change is consulting on proposals that would allow the industry to drill below people's land without permission.
Companies would have the right to drill to depths of 300 metres or more under private land without negotiating a right of access.
Energy Minister Fergus Ewing said decisions on the issue should be taken at Holyrood rather than Westminster, and a Yes vote for independence in September's referendum would give Scotland the power to deal with the issue.
He said: "The Scottish Government believe that there should be an evidence-based, cautious and considered approach to unconventional oil and gas, and that all of the decisions taken about it should be taken by the people of Scotland, through the parliament and government they elected.
"UK Government proposals to remove the right of Scottish householders to object to drilling under their homes flies in the face of that approach and that is why we object to them. It is also fundamentally an issue affecting land ownership rights.
"The gung-ho approach of the UK Government to the whole issue of unconventional oil and gas – often without any consultation with the Scottish Government at all – contrasts with our approach."
Mr Ewing's stance has been welcomed by Green politicians and campaigners.
Patrick Harvie MSP, co-convener of the Scottish Greens, said: "Greens have been calling for this proposal to be blocked in Scotland, so these comments from Fergus Ewing are a good step.
"Meantime Scottish ministers should continue to consider the use of existing regulations to ban unconventional gas completely. We are risking our economy, not just our environment, if we encourage yet more fossil fuel extraction.
"Communities such as Airth near Falkirk and Canonbie in Dumfries and Galloway are already facing a battle against gas drilling.
"Given the Scottish Government's failure to support a ban on fracking or clear buffer zones, and the First Minister's description of shale gas as an opportunity, many other communities across Scotland will remain deeply concerned at these unwanted, unnecessary developments."
Friends of the Earth Scotland director Dr Richard Dixon said: "We are delighted that the Scottish Government is saying no to UK Government plans to remove people's rights to stop, or even be notified about, shale gas fracking underneath their homes. The UK Government is falling over itself to get fracking going, all credit to Scottish ministers for having more respect for Scottish communities.
"The Scottish Government's more cautious approach to unconventional gas extraction is good news for the people of Scotland and bad news for any operators hoping to make a quick buck before the shale bubble bursts."
WWF Scotland director Lang Banks said: "At a time when we should be doing all we can to harness the full potential of renewables, Scottish ministers are right to resist moves to ease the rules for the fracking industry.
"If we're serious about tackling climate change then at least two thirds of the world's fossil fuel reserves need to stay in the ground. Scottish ministers should stick to their renewable path and take steps to ensure shale gas and other unconventional fossil fuels remain unburnt."
The Scottish Government recently brought in new planning measures for hydraulic fracturing, or fracking, after a public consultation.
These include a requirement that developments can only go ahead if communities and the environment can be protected.