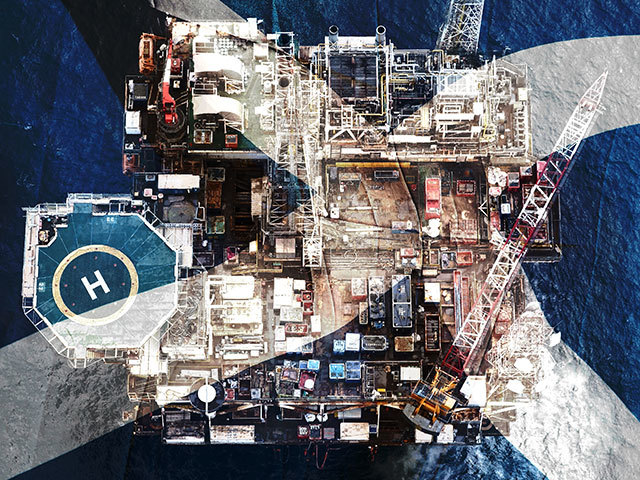 Following comments I made in an interview requested with Energy Voice, I find myself reluctantly drawn into the public debate on Scottish Independence, despite my lifelong resolve to avoid politics. My decision stems from some wildly inaccurate misquoting in the referendum debate of my recent UK Continental Shelf Oil & Gas Review but also from my role as a father and grandfather, and being faced with the potential nightmare of future generations asking, long after I'm gone, "why didn't he speak up?"
Passions are running high and we are all bombarded daily with a huge amount of divisive and contentious debate, largely contradictory, much of it emotional and less than accurate on both sides. I could shrug this off if it was a normal Parliamentary election, but this is not about voting for a party or politicians. Alex Salmond, Alistair Darling and their colleagues won't be around in 20-30 years' time – the vote is not about them. This is Scotland's most important vote for centuries – separation from the UK will change Scotland forever, setting a different economic, political and social course for our grandchildren and future generations, and there will be no going back.
I have no allegiance to any party or campaign. I am proud to be both Scottish and British. I believe devolution and the current SNP Government are working well. Alex Salmond is an able First Minister with some good Cabinet colleagues. Likewise, the UK Government have taken tough decisions to achieve a stable economic recovery.
That said, I don't believe either side are currently covering themselves with glory in the independence debate. I have direct knowledge and experience in some of the areas of distortion, particularly around our oil and gas reserves, and that's where I believe my knowledge and expertise are relevant to the debate, especially my recent leadership of the UK Government Review on Maximising the Economic Recovery of the UK's Oil & Gas Reserves.
Oil and gas has featured heavily in the economic debate. We've so far produced 43 billion barrels of oil equivalent (boe). The previous estimates of what's still to come vary between 12 billion to 24 billion barrels with the Scottish Government's and the First Minister's most quoted central prediction being the 24 billion figure.
Based on the research and conversations within my Review, and across the industry, I believe, that even with a more sympathetic tax and regulation framework, the likely best outcome, without new hydrocarbon regions being discovered, is between 15 billion and 16.5 billion barrels. This takes account of the major challenges facing the industry in terms of low exploration activity, runaway costs and the loss of ageing infrastructure. On that basis, the Scottish Government central prediction of what's still to come is between 45% and 60% too high.
Likewise, on Scotland's likely tax income from oil and gas revenues over the next five years, the Scottish Government prediction of £7 billion per annum looks about 40% too high. The 2013/14 figure was £4.7 billion and my best estimate of the next five year average tax income, taking account of essential concessions and allowances to encourage further field developments, is £5 billion. This assumes new fields will come on production on time. The shortfall of £2 billion per annum will have a significant impact on Scotland's short term economic case (potentially £370 less for every man, woman and child in Scotland every year).
Unfortunately, my Review also clearly indicated that most operators would feel more confident if Scotland was to remain part of the UK, and thus we will attract more investment from the present operators and indeed from potential new operators under a larger more stable UK regime. What's more, a Yes vote would inevitably cause a significant loss of momentum over the next three or four years – a critical development period in maximising recovery of our reserves.
However, much more relevant to the Scotland's independence debate is how long offshore oil and gas production will last. We now have a mature offshore oil and gas basin with depleting reserves, and even with everything possible being done to maximise recovery, we will be down to very low levels of production by 2050 – probably less than 250,000 barrels per day, about one sixth of our current level. So offshore oil and gas cannot figure significantly in Scotland's medium term economic calculations. It means our young voters must be fully aware that by the time they are middle aged, Scotland will have little offshore oil and gas production and this will seriously hit our economy, jobs and public services. What's more, the rundown impact will begin to be felt by 2030, which is only 15 years from now.
What are the alternative energy sources for an independent Scotland? Sadly, the recent disappointing news from the official British Geological Survey on likely shale gas reserves in Scotland indicates that, in contrast to England, we won't have significant alternative onshore supplies of hydrocarbons to depend on after the offshore reserves are exhausted. Thus ironically, with the Scottish basin having contributed significantly to the UK's energy reserves over the last 40 years, a vote for independence would see us leaving the UK just after the discovery of very significant shale gas reserves in England, which could make a significant contribution to the UK's energy requirements over the next 50 years. This could see Scotland having to import hydrocarbons from England at significant cost to our balance of payments!
Unfortunately, I think Scotland will also lose out on renewables. The UK is currently heavily subsidising our renewable energy pricing. We receive 30% of the support but account for only 10% of electricity sales and the rest of the UK is also the key market for our renewable exports. An independent Scotland will lose the very significant pricing subsidy and there's a danger that the rest of the UK will opt to import cheaper electricity from continental Europe.
So reluctantly, I conclude that an independent Scotland will lose out badly on our energy economics. The loss of the significant offshore oil and gas tax revenues as the North Sea runs down will have a big impact on our economy, jobs and balance of payments, with significant increases in household energy bills, and a very adverse impact on the legacy for future generations in an independent Scotland.
Recommended for you

The case for COP28 and developing nations' needs