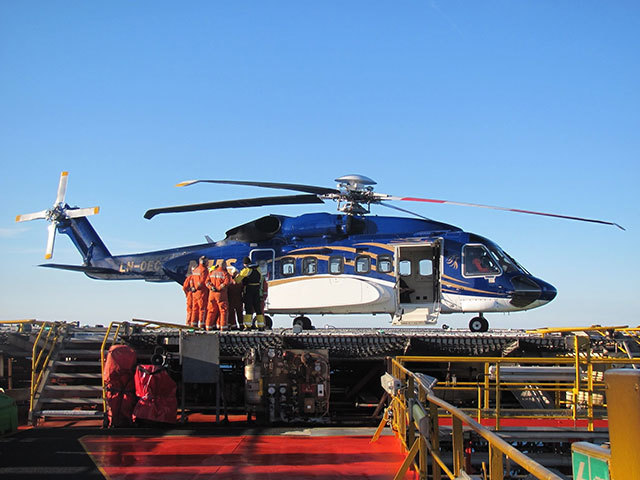 Two pilots have been suspended and an investigation launched after a North Sea helicopter landed on the wrong oil rig.
The Bond-operated S-92 helicopter with one passenger on board had been set for the Buzzard platform – about 60 miles north of Aberdeen.
But instead it made an unscheduled landing on the Nexen-operated Ensco 120 jack-up rig – about nine nautical miles away. Last night, Bond confirmed two employees had been removed from the flight roster while an investigation takes place.
One concerned oil worker said: "When this chopper landed on the rig the radio operator called the helicopter and said 'can we help you?'. They replied 'we appear to have landed on the wrong rig'.
"Most helicopter accidents occur on approach or departure – you must have a crew on the rig ready to receive the helicopter and a standby boat there to offer help if needed.
"When a chopper is approaching a rig you are not allowed to move cranes – the rig was fully operational with cranes working.
"Most of the time the crane operator is the helicopter landing officer so that takes care of the problem."
The aircraft, which can potentially carry up to 19 passengers, is understood to have left Aberdeen Airport at 5.30pm on Friday.
It made a number of scheduled landings before arriving at the unprepared Ensco 120 rig at around 7pm.
The oil worker added: "Lives have been put at risk because of this – it's unbelievable that in this day and age they could have got this so wrong."
Jake Molloy, regional organiser of the RMT union, said it was difficult to understand how such a mistake could have been made.
"We have had landings on the wrong deck before, but they have normally been very close to one another," he said.
"Nine miles apart is difficult to comprehend when the pilots have to call in to the helideck asking for clearance, and the helicopter landing officer should have it in sight.
"This is an area that has to be looked at carefully and hopefully lessons can be learned."
Helicopter safety campaigner and north-east MSP Lewis Macdonald described the incident as "concerning".
He said: "Clearly, everybody who uses helicopters – and their families – needs to have confidence in the systems and procedures used by companies like Bond and anything that undermines that confidence must be investigated urgently.
"An incident such as this is bound to throw up questions and concerns."
A spokesman for Bond confirmed two crewmen had been suspended as a result of the incident.
He said: "We can confirm an S-92 helicopter landed safely on the deck of a platform which was not on the original flight plan.
"Both pilots have been removed from the flying roster pending an investigation."
Recommended for you

'Staggering situation' as UK regulators not investigating North Sea rig incident