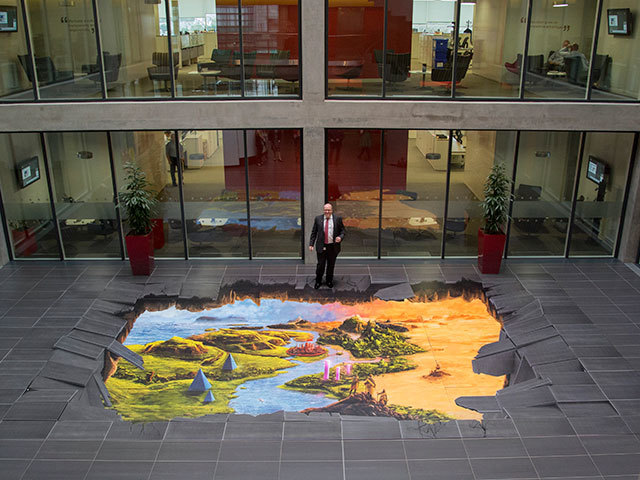 Terra Valora is latest in a long of targets for industry giant Wood Group.
The mythical land, which is the brainchild of chief executive Bob Keiller, was created to capture the imagination of the firm's newest recruits.
As part of the company's induction week, 70 graduates, trainees and apprentices, created a giant 3-D painting on the floor of the firm's Justice Mill Lane atrium. The exercise was tailored to create a foundation of the firm's core values.
Bob said: "Our core values are fundamental to how we operate. Before people can commit to our values they need to believe in them. Before people believe in our values they need to understand them – and before that they need to be aware of them. It takes time however, and each week we share examples of how we use them with all of our teams.
"For our new starts, we need to capture their imagination and make them fully aware of our core values and how we use them, to help support and reinforce those principles that are at the centre of our business – and the 3-D floor painting was intended to do just that.
"Taking its inspiration from street artistry, the painting is called Terra Valora, which means the 'the land of values'. It shows different aspects of our seven core values and is based on a mythical, historical land that only reveals itself to companies that truly believe in their values.
"Terra Valora is the place where people were said to live by core values every day and includes landmarks that reflect the Wood Group core values.
"It is all a bit of fun but hopefully it helps our new people understand how seriously we take our core values."
Watch the full time-lapse video below.
Recommended for you

KCA Deutag bags Middle East drilling contracts worth £137m