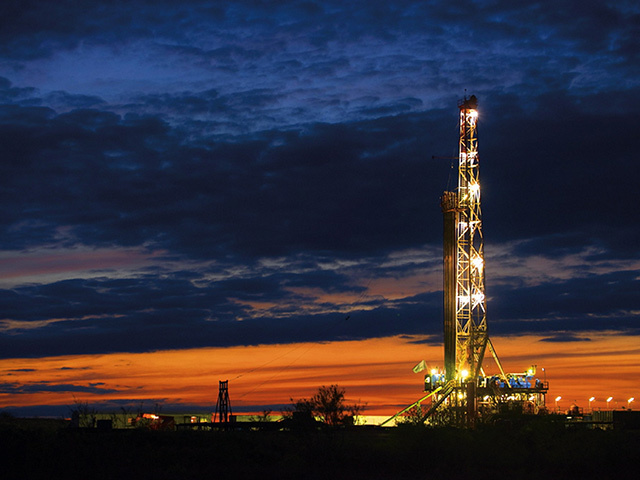 Opponents staged a peaceful protest as planners prepared to decide whether to approve or reject a shale company's bid to explore for oil and gas in the South Downs National Park.
Celtique Energie has put in a planning application for a site near Fernhurst, West Sussex, to drill a temporary vertical well to test for oil and gas.
The plan, which has attracted more than 5,500 objections, could also lead to the drilling of a horizontal well extending out from it.
South Downs National Park Authority (SDNPA) officers have recommended that the planning application – which does not seek permission for "fracking" – should be refused.
Ahead of a meeting of its planning committee in Midhurst this morning, a small gathering of banner and placard-waving opponents turned out to vent their feelings.
One, Simon Clydesdale, energy campaigner for Greenpeace, said: "This type of plan would mean we would go down the dead-end route of using fossil fuels again.
"That's not the solution. The answer for our energy problems lies with safer, renewable energy, not fracking, and it's good that the planners are recommending this for refusal."
In a report to be considered by the committee, officials said the applicant "has failed to demonstrate exceptional circumstances exist for such exploration and appraisal to take place within the protected landscape and that it is in the public interest to do so".
Celtique said its application was robust and hoped the planning committee would share its view when it met.
But environmental campaigners Greenpeace urged the committee to heed their experts' advice and put a stop to the plans to drill in a national park.
Trevor Beattie, chief executive for the SDNPA, said: "Any proposal for major development in a National Park must demonstrate that exceptional circumstances exist for the development to go ahead and that it is in the public interest for the development to occur.
"Key assessments are whether there is a proven need for this development in this location or whether oil/gas exploration could take place elsewhere. The report speaks for itself."
Celtique said it was "confident in the robustness of our application", which included steps it would take to limit any potential environmental impact.
But Friends of the Earth South East campaigner Brenda Pollack said: "Ludicrous and damaging proposals to explore for shale oil or gas inside our most cherished areas of countryside must be rejected.
"If we can't protect Britain's national parks from the threat of fracking, then nowhere is safe.
"The benefits of fracking have been hugely over-hyped. With the need to tackle climate change becoming more urgent than ever, it's time to build a sustainable energy future based on efficiency and renewable power."
A bid by Celtique to explore for oil and gas near Wisborough Green, a conservation area also in West Sussex, just outside the South Downs National Park, was turned down by the county council's planning committee in July.
The Government has committed to going "all-out for shale", claiming development of the gas and oil resource is needed to improve energy security, boost jobs and the economy and bring down energy prices.
But opponents say fracking causes disruption and damaging development in the countryside, can cause minor earthquakes and the risk of water pollution, and that exploiting new oil and gas resources is not compatible with tackling climate change.