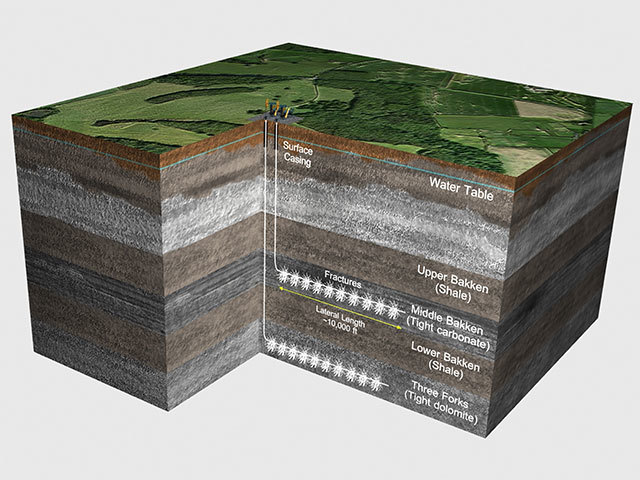 A felon suspected of defrauding investors in the booming oil fields of North Dakota was charged with arranging the murders of a business partner gunned down in his kitchen and a truck driver who vanished in 2012.
James Henrikson, 35, orchestrated the murder of his partner, Douglas Carlile, on Dec. 15 in Spokane, Washington, according to an indictment unsealed there two days ago by US prosecutors. Henrikson, a felon with drug and weapons arrests, faces the death penalty or life in prison. He joined Carlile, a roads contractor, in trying to cash in on the gold rush spawned by hydraulic fracturing, or fracking, in North Dakota.
As Bloomberg News reported in June, both men invested in a 640-acre parcel in the Bakken oil fields, where drilling has brought newfound wealth and also a sharp surge in crime. Henrikson and Carlile had a falling out over the land, and Carlile became increasingly frantic to raise $400,000 that he said he needed for the deal, witnesses told Spokane police.
"The oil boom has brought great prosperity to North Dakota," Tim Purdon, the US attorney in North Dakota, said in an e-mail. "But it has also attracted drug runners, sex traffickers and grifters, and our home towns are developing big city crime problems as a result."
Carlile was shot dead after being ambushed by a masked gunman last year in his home. Before that, according to a Spokane police affidavit, he told one of his sons: "If I disappear or wake up with bullets in my back, promise me you will let everyone know that James Henrikson did it."
The nine-page indictment against Henrikson and five other men offered scant details about the Carlile murder, the motive, or the means. Two of those indicted with Henrikson were previously charged by Spokane police: Timothy Suckow, the accused triggerman; and Robby Wahrer, the suspected getaway driver.
Three hours after the shooting, a Spokane detective called Henrikson in North Dakota, police records show. Henrikson said "he is very angry with Carlile" and he was frustrated that he "does not pay people the money they are owed," according to an affidavit. Henrikson said that Carlile owed him $1.88million. He denied killing Carlile or knowing why anyone would hurt him.
At the time of Suckow's arrest in January, Spokane Police Chief Frank Straub said the shooting was probably motivated by "business transactions that went bad" in the oil fields.
Unlocked by fracking, the Bakken oil fields are producing more than 1 million barrels of crude a day, surpassing Organization of Petroleum Exporting Countries members such as Qatar and Ecuador. They also have led to a spike in drug gangs, meth labs, violent crimes, prostitution and investor fraud, according to police.
After the Carlile murder, federal authorities arrested Henrikson and charged him with possessing weapons as a felon. They also filed a civil forfeiture complaint claiming he defrauded partners in various trucking companies that sought to cash in on the Bakken boom. In a separate forfeiture action, authorities seized the parcel of drilling acreage he sought to develop with Carlile on the Fort Berthold Indian Reservation in western North Dakota, claiming Henrikson engaged in fraud.
Henrikson remained in federal custody in North Dakota, and is scheduled for an initial appearance today by video conference, court records show. Suckow and Wahrer entered not guilty pleas Sept. 17, as did the other men charged, including Lazaro Tomas Pesina, who was arrested on Sept. 5. His arrest complaint remains sealed.
Henrikson attorney Chad McCabe and Suckow attorney Roger Peven declined comment. Attorneys for Wahrer and Pesina didn't immediately returns calls seeking comment.
The indictment also charges Henrikson with arranging for Suckow to murder Kristopher Clarke, once a driver for a Henrikson trucking company, Blackstone LLC. Clarke disappeared in February 2012, and his mother, Jill Williams, launched a Facebook campaign blaming Henrikson.
As with the Carlile murder, the bare-bones indictment doesn't say how or why Clarke was killed. It's not clear if authorities have recovered his body.
The indictment also charges Henrikson with conspiracy to commit the murder for hire of three other men: Jay Wright; Jed McClure, and Tim Scott, a building contractor in Ephrata, Washington. Henrikson also is charged with conspiracy to distribute heroin.
Scott told Bloomberg News in June that Henrikson had cheated him in a business venture. He also said he introduced Henrikson to Carlile.
In an interview yesterday, Scott said he had been threatened by Henrikson who "owes me a lot of money" for a trucking venture in North Dakota.
Former partners who did oilfield work with Henrikson remember his eager, can-do attitude. He courted investors along with Sarah Creveling, his third wife, who helped him run several trucking companies.
By the summer of 2013, Henrikson was dogged by complaints from investors who said he cheated them.
Court records show that the US Postal Inspection Service, the Internal Revenue Service and the Homeland Security Department were investigating possible wire fraud, mail fraud and money laundering by Henrikson and Creveling. Agents from the Federal Bureau of Investigation and Bureau of Alcohol, Tobacco and Firearms later joined the probe into Henrikson's activities.
Henrikson surrounded himself with violent men who intimidated others, Spokane police affidavits show. Witnesses told police that Henrikson threatened to kill Carlile.
Around Labor Day last year, Henrikson showed up in Washington at the office of Carlile's son, Skyler, and demanded $400,000. Skyler told police that Henrikson warned him "something bad could happen to me and my family" if Carlile didn't find the money.
On Dec. 15, Doug Carlile and his wife Elberta came home from church at around 7 o'clock in the evening. Elberta walked upstairs and heard voices from the kitchen, according to an account she gave police. She came back downstairs to see a man dressed in black, with a facemask, pointing a large black semiautomatic handgun at her husband.
"Don't do anything, don't do anything," Doug Carlile pleaded.
Elberta ran upstairs and heard five or six shots as she reached the top step. She hid in a closet and called 911. The gunman fled as Doug Carlile lay dead on the kitchen floor.
Suckow, who has assault and burglary convictions, had dropped a glove behind the Carlile home that led to a DNA match, police said after his arrest. Police searched Suckow's SUV and said they found a hand-written list with entries including "glove," "wheel man," "wipe tools down," and "practice with pistol."
After Henrikson's arrest on Jan. 18 for possessing seven guns illegally, postal inspector Thomas Irvin said at a bail hearing that Creveling was "in fear for her safety and not returning home."
Creveling contacted federal agents and told them that investors in their companies were defrauded through ownership transfers, prosecutors said in an April 8 court filing. Profits were funneled away from investors who received phony financial statements, Creveling said. She also said she bought guns for Henrikson, who would "meticulously" wipe them down to remove finger prints. Creveling could not be located for comment.
Federal prosecutors in North Dakota will dismiss the weapons charges, Purdon said.
The Henrikson indictment follows a multi-agency, multi- state probe. Michael Ormsby, the US attorney in the Eastern District of Washington, wouldn't discuss details of the case, which also involved Purdon's office.
The case is U.S. v. James Terry Henrikson, 14-cr-124, US District Court, Eastern District of Washington (Spokane).