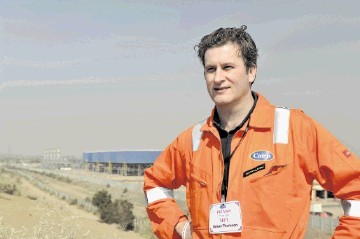 Scottish oil firm Cairn Energy made a commercial oil find in its FAN-1 exploration well in Senegal, the company confirmed.
The well, which is 100 kilmoetres offshore in the Sangomar Deep block, was targeting multiple stacked deepwater fans.
A preliminary analysis has indicated there is 29m of oil bearing reservoir in Crestaceous sandstones and the distinct oil types range from 28 degrees API up to 41 API so far, from oil samples recovered to the surface.
The company said there were no plans for immediate well testing, but further evaluation will be carried out to calibrate the well using existing 3D seismic measuring to determine the amount of oil discovered.
Chief executive of Cairn Energy, Simon Thomson, said: "The oil discovered in the FAN-1 prospect is an important event for Senegal and the joint venture.
"We have encountered a very substantial oil bearing interval which may have significant potential as a standalone discovery.
"Furthermore, this result materially upgrades the prospectivity of the block with a proven petroleum system and a number of deep fan and shelf prospects established.
"Work is already underway with the joint venture partners to determine follow up activity which is targeted for 2015 onwards.
"Cairn looks forward to working with the government of Senegal and our partners to realise the full potential from this large acreage position off the West coast of Senegal."
Once operations are completed on the FAN-1 well, the rig will move to complete the second well, SNE-1, where the top hole has been drilled pending re-entry.
The FAN-1 well, which was drilled using the semi-submersible drilling unit Cajun Express, is the third well in Cairn's North West Africa programme and its first in Senegal.
Cairn has a 40% working interest (WI) in three blocks offshore Senegal (Sangomar Deep, Sangomar Offshore and Rusifique) while ConocoPhillips has 35%, FAR Ltd retains 15%.
Recommended for you

Sri Lanka seeks to attract deep-water investors for Mannar gas discoveries