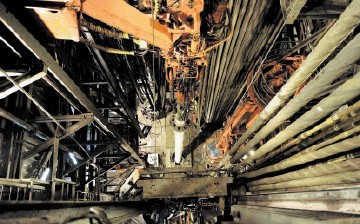 Industry experts believe standardisation is critical to stifling ballooning costs in deepwater activities.
A panel at the Deep Offshore Technology International 2014 (DOT) assessed ways costs could be reduced within deepwater activity, amid an increasingly difficult market combination of decreasing oil prices and rising operation costs.
Bill Westcott, who chaired the event, said more practical solutions were needed to prevent projects being cancelled completely or delayed.
The director of business development at INTEC was joined by directors from companies including Statoil and Subsea 7 as he discussed the emerging market trend of tightening budgeting belts.
He said: "Oil prices are going down and with it the cost of doing business keeps on going up.
"When this happens bad things occur in our business – projects are delayed or cancelled. It really affects our business, It puts everyone in a bind.
"We have to be careful that we consider safety and we don't want to be taking too many short cuts.
"We need practical approaches on how to reduce costs in deepwater and we need to find a way to do things better."
He was joined by Benedicte Nordang, the project manager of the Johan Castberg Subsea project for Statoil, which has faced a series of setbacks since its incarnation in 2011.
The project, in the Barents Sea, has been hit by delays with Statoil and other partners announcing in June this year that it would need "more time" for its final concept selection.
She said: "We were aiming for a production start-up originally in 2019 and then the project was delayed one year ago, the concept solution was not started, and we were again delayed this summer.
"We had a provisional investment decision this June that was delayed due to CAPEX (capital expenditure) and pretty disappointing exploration results.
"Now we are looking for a new provisional decision next year, hopefully. As a part of that development we are looking at cost cutting.
"We are targeting pretty high cost cutting especially in the facilities part of the project.
"As part of Statoil we are looking at our Statoil Technology Efficiency Program (STEP) that was launched in February in order to reduce costs.
"We have a target of 25% CAPEX cost cutting, as Johan Castberg already cut CAPEX in spring time, we are targeting for another 15% which is pretty ambitious.
"CAPEX has gone up, for SPS (subsea production systems) the cost has almost tripled over the last 10 years since 2003.
"For subsea projects all in all it has doubled. We have an increase in engineering hours to three to four time what we did just 10 years ago.
"This is not sustainable and we have seen that many projects have stopped, almost all development projects going for investment decisions in Statoil this spring have been stopped. We need to do something about it."
She said the company was looking at a number of ways to reduce deepwater costs including monthly reports on whether they are going to achieve cost savings and a design to cost approach based on the project's budget.
Ms Nordang added: "As we are still in the concept development of Castberg actual cost saving yet, but we are working towards implementing STEP."
Mike Wyllie, group technology director of SBM, also spoke about the potential cost savings from standardisation which could be used across the industry.
He said: "There's a clear correlation between the ease of standardisation and the type of system and how those systems are field specific.
"On one end of the scale the opportunities are around FPSO hulls and accommodation. The hull and accommodation can be standardised by region, because the type of hull we need for the North Sea is going to be different for the hull we need for West Africa.
"But there is an opportunity to create standard FPSO hulls.
"Water injection standardisation is harder because of the different pressures, and in terms of flow rates and quality, but it's not too difficult to come up with standard models for water injection overall.
"When you get to gas processing it becomes more difficult, and when you get to it one of the biggest challenges is that there are so many variables depending on where you are, so it's very difficult to see how to standardise that."
It will be collaboration which is instrumental in reducing costs, according to Alan Black from Subsea 7, who referenced work currently being done between the government and the construction industry.
He said: "The UK government has collaborated with the construction industry onshore to look at how they can strengthen and make sure the UK construction industry stays strong through to a 2025 target.
"I think the goals that they have set would resonate at this conference and be very much welcomed in our industry-if we could be looking at 33% cost reducing, 50% faster delivery and lower emissions.
"I think from a collaboration prospective our industry is ready to do this but to me if the UK government can do this, then surely the oil and gas business can do this."