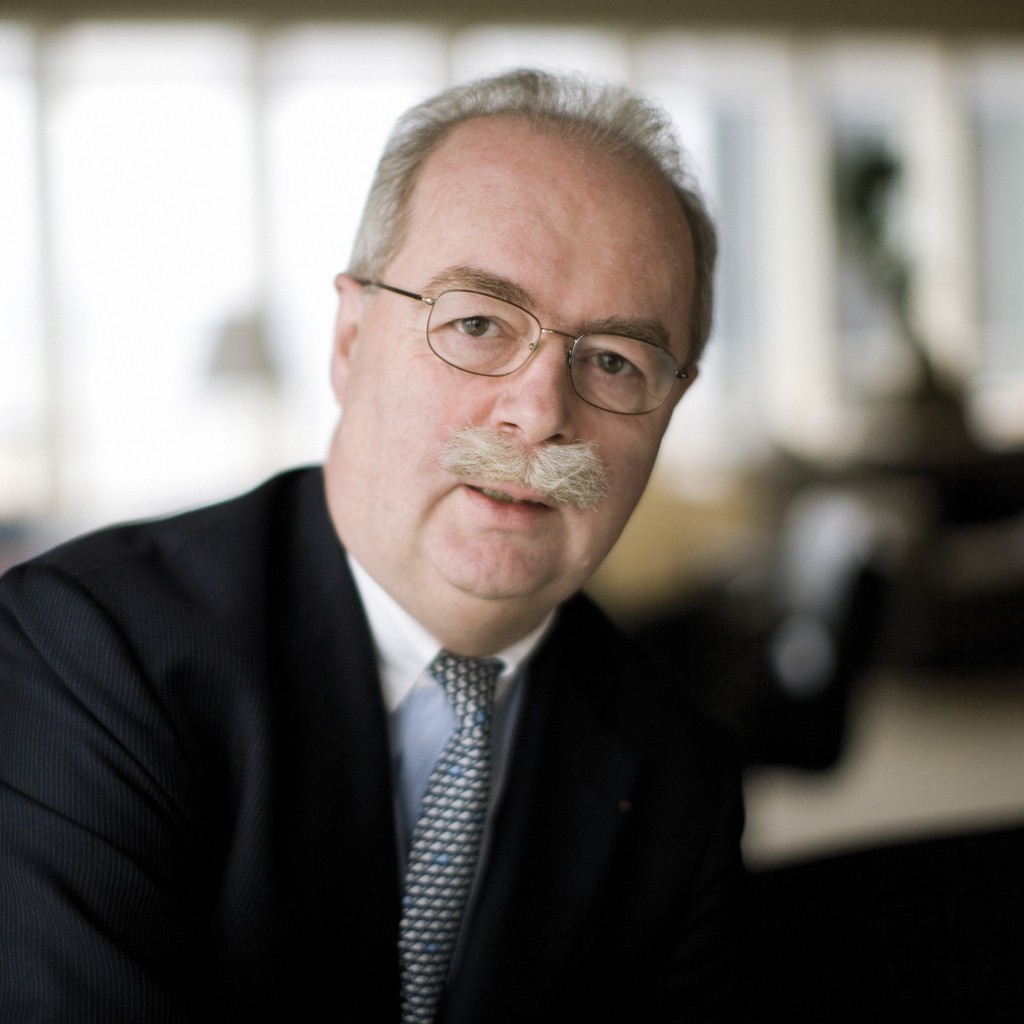 Total SA's Christophe de Margerie died when his airplane struck a snowplow on a Moscow runway, ending a career in which he oversaw the biggest expansion of oil reserves at the French energy giant in at least 15 years.
The 63-year-old chief executive officer died at Moscow's Vnukovo Airport in the crash that also killed three crew members, Total said in a statement.
"He provided extraordinary leadership for Total, and had deep understanding of the Middle East," said Daniel Yergin, vice chairman of IHS Inc. and one of the foremost historians of the petroleum industry. "He was very much a man who thought about what was going to happen down the road. He was a man of great vitality and charm, a statesman who would speak his mind, though with verve and humor."
During a 40-year career that began in Total's finance unit, de Margerie oversaw far-flung operations for the French petroleum giant from Indonesia to the Middle East to Kazakhstan. Earlier this year he helped negotiate the Paris-based company's entry into Russian shale under a Siberian drilling venture with OAO Lukoil; the company also is a partner in the vast Russian gas development on the Yamal Peninsula.
The accident occurred as the jet was taking off from the business terminal at the airport, according to a statement on the website of Russia's Investigations Committee. The plane, which the Russian emergencies ministry identified as a Dassault Aviation SA Falcon-50, struck an airport vehicle, caught fire and dropped back down on the runway, according to the committee.
Likely successors include Yves-Louis Darricarrere, Total's upstream president, as well as refining and chemicals chief Patrick Pouyanne, Yergin said in a telephone interview. Age could be a factor in considerations for Darricarrere, who is 62, just a year younger than de Margerie, he said.
Nicknamed the "Big Mustache" for his ample white whiskers, de Margerie cut a larger-than-life figure at international energy conferences including IHS's CERAWeek event in Houston this year when he discussed the impact of surging exploration and drilling costs on oil producers and consumers.
De Margerie steered Total into British shale exploration, West African oil drilling, South Pacific natural gas and oil sands in Canada. Founded in the 1920s on a rump of Turkish and Iraqi oilfields, Total grew through the decades to pump enough crude to fill a supertanker every 40 hours.
"France has lost a chief executive who was out of the ordinary and who was able to transform Total into a global giant," French Prime Minister Manuel Valls said in a statement. "By guiding the company towards new sources of energy he prepared it for the future."
As CEO, de Margerie could be seen lingering with a glass of whisky in hand talking with analysts and industry representatives long after the end of conferences he addressed.
De Margerie was shrewd in the political as well as the business realms and influential in shaping government policy on energy, Craig Stapleton, former U.S. ambassador to France through 2009, said in a phone interview.
"He will be very hard to replace," Stapleton said. "I can't think of many businessmen of his breadth in any country, so Total is going to miss him. France is going to miss him, and the West will miss him."
De Margerie drew on lessons learned from France's long history of Middle East intervention to inform his approach to the region's leaders, said Ed Djerejian, founding director of Rice University's Baker Institute for Public Policy and a former U.S. ambassador to Syria and Israel.
"He was an expert in political analysis," Djerejian said in a phone interview. "He had a geopolitical background and a passion for these policy issues. He's a large figure in the energy sector globally, and I think his loss will be felt. It's a major loss that he has died."
Russian officials started an investigation into the accident, the Moscow regional transport prosecutor's office said in a statement. Low visibility due to snow and fog, a failure of the plane's avionics system, and human error are possible factors behind the disaster, Interfax reported today, citing unidentified airport staff.
Visibility at the time of plane take-off, which was at 11:57 p.m. local time, was about 350 meters (1,100 feet), Vnukovo airport said in an e-mailed statement. The incident caused the airport to shut for about an hour and a half, Vnukovo said.
Total is the world's fourth-largest non-state energy company by market value, after Exxon Mobil Corp., Royal Dutch Shell Plc and Chevron Corp., according to data compiled by Bloomberg. The French company's $228 billion in annual sales exceeds the economic output of nations such as Ireland and Vietnam.
Under de Margerie's reign, reserves-life, or the number of years of current production that could be replicated using existing reserves, rose in every year but one, the longest such streak for Total since at least 1998.
Recommended for you

Natural hydrogen: Fairy gold or commercial reality?