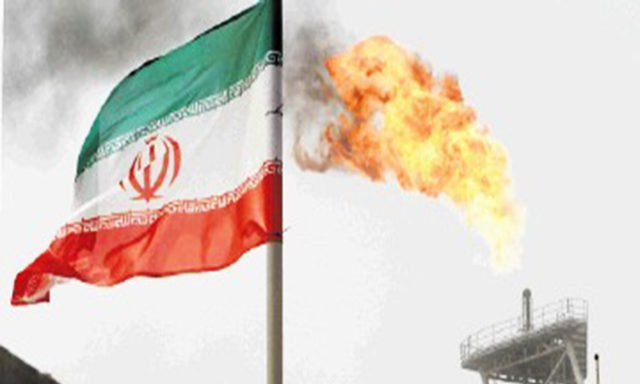 Iran's revenue from crude sales, the OPEC member's biggest export, dropped 30 percent because of the recent decline in global oil prices, according to President Hassan Rouhani.
"International conditions are such that the country's main source of income, i.e. oil revenues, has been cut by some 30 percent," Rouhani said in remarks to parliament published yesterday on Shana, the Oil Ministry's news website. "We have to deal with the new conditions and the global economic conditions."
Brent crude, a benchmark for more than half of the world's oil, has plunged more than 20 percent since peaking in June at about $115 a barrel as supply, boosted by U.S. shale production, outpaced demand. Iran needs to achieve a break-even sales price of $143 a barrel this year to maintain its fiscal balance, according to data compiled by Bloomberg.
"The government probably will face a budget deficit; that's why growth will be the victim," Kevan Harris, associate director at Princeton University's Center for Iran and Persian Gulf Studies in Princeton, New Jersey, said by phone yesterday.
Iranian oil exports fell to the lowest level on record in August, according to the Joint Organisations Data Initiative. Economic growth and energy demand is slowing in China, Iran's biggest buyer, while the Persian Gulf state's sales are restricted by U.S. and European Union sanctions.
Iran dropped in 2012 to fifth from second in production among the 12 members of the Organization of Petroleum Exporting Countries. It pumped 2.78 million barrels a day in September, data compiled by Bloomberg show. The nation holds oil reserves of 157 billion barrels and the world's biggest deposits of natural gas, estimated at 1,192 trillion cubic feet, according to BP Plc.
The U.S. and allied countries imposed sanctions on Iran over concerns that its nuclear program could mask efforts to produce an atomic bomb. Iran says its nuclear work is for peaceful purposes. The sanctions have almost closed Iran's oil and gas fields to investment over the last decade, limiting the country's access to technology to boost output and build plants for exporting liquefied natural gas.
The decline in crude prices and a looming Nov. 24 deadline for a nuclear accord with the U.S. and other world powers are raising pressure on Rouhani, elected last year on a platform to end Iran's isolation and revive the economy. Brent fell today as much as 32 cents, or 0.4 percent, to $86.80 a barrel and traded at $86.90 at 7:04 a.m. on the London-based ICE Futures Europe exchange.
"In the issue of oil, the economy has not been the sole important factor," Rouhani said. "International politics and plots" have also affected prices, he said, without elaborating.
The inflation rate has slowed to 15 percent from a peak of 32 percent two years ago, according to the Central Bank of Iran. Iran's $400 billion economy shrank more than 7 percent over the past two years, according to the International Monetary Fund, as sanctions depressed oil output to the lowest since 1990 and deterred investment. Growth will probably resume this year, the IMF says.
Iran is moderating its reputation for taking a hard line on crude prices by shunning calls for OPEC to hold an emergency meeting. Oil Minister Bijan Namdar Zanganeh consulted with Rouhani about political and economic reasons for the recent price slide, Shana reported on Oct. 20. No emergency OPEC session is necessary, Shana said.
OPEC is unlikely to lower its production ceiling when it meets Nov. 27 in Vienna, said Mohsen Qamsari, director for international affairs at state-run National Iranian Oil Co., according to a Shana report on Oct. 27.
Iran foresees an economic boost from a possible end to sanctions and is raising its refining capacity to produce gasoline and diesel to meet an anticipated growth in domestic demand, Mehdi Sharifi, NIOC's marketing manager for fuel oil, said yesterday at a conference in Dubai.
Construction of the country's newest refinery, the Persian Gulf Star, has been delayed since 2007 because of sanctions. The plant is now scheduled to start operating next year, he said. Once the 360,000 barrel-a-day facility reaches full capacity in 2016, it will raise Iran's total refining capacity to about 2.2 million barrels a day from 1.8 million barrels, Sharifi said.
Iran plans to increase refining capacity to 3 million barrels a day over the next four years, he said. The government must import three to four cargoes of gasoline a month, Sharifi said, declining to specify origins of the fuel.
Other Middle Eastern countries, including Saudi Arabia and the United Arab Emirates, are building and expanding refineries to meet domestic demand as their populations and economies grow.
Recommended for you

Oil slips from 7-Year high with Biden pledging to tackle prices