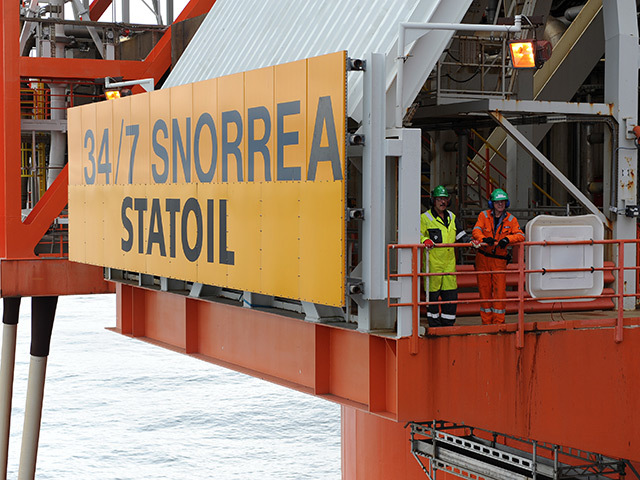 Just over a year ago, Statoil decided that it wanted to press ahead with redeveloping the Snorre field in the North Sea o enable production to continue through to 2040 and perhaps beyond.
An evaluation of the "Snorre 2040" project had been carried out with examination of two development concepts: a subsea development with continued use of the Snorre A and B platforms or a project that involved a new platform tied in to Snorre A and B.
"The platform solution is the best alternative for maximising production and creating the greatest possible value," said Oystein Michelsen, Statoil's VP for the Norwegian Shelf.
"Snorre 2040 is an important improved oil recovery project and supports our ambition of achieving an average oil recovery rate of 60% from our fields on the Norwegian shelf,"
Snorre field reserves are currently estimated at 1.55billion barrels of oil. The original estimate when the plan for development and operation (PDO) was submitted in 1989 was about 760million barrels.
It is a classic example of how dramatically the reserves position of many North Sea fields can "grow" as reservoir knowledge improves over time.
Currently, the estimated recovery rate from Snorre is 47%, but the application of increased oil recovery techniques is expected to raise this to 55%.
Wood Group PSN units Wood Group Mustang and Wood Group Kenny played a significant role in the early feasibility studies.
Having expressed the desire to push ahead with redevelopment, Michelsen pointed out that the May 2013 change in Norwegian petroleum tax rules made the project more challenging and slowed it.
The final development concept decision is expected early next year unless it is for some reason derailed by an oil price slump.
However, redevelopment based around construction of a new platform, Snorre C, connected to the A and B platforms is reckoned by Statoil to provide the best way ahead in terms of efficiency and value. Additionally, a new platform will allow the tie-in of new discoveries in the area.
In June, RDS, the specialist rig design and engineering business unit of Aberdeen-headquartered KCA Deutag, was awarded a contract by Wood to carry out pre-front end engineering and design (FEED) work linked with the proposed third and tension leg platform (TLP).
An RDS team based in London was due to spend around five month designing the drilling facilities that will be installed on the Snorre C TLP.
Then, last month, Statoil said it had awarded Wood Group Mustang in Houston a pre-front end engineering and design contract for the TLP that is destined to be installed in more than 3,000m (1,000ft) of water.
Under the contract, the company is responsible for project management, topsides design and integration of the hull, drilling and riser facilities. This work is being performed by Wood Group Mustang and Wood Group Kenny in continuation of the feasibility study they completed in 2013.
Spanning blocks 34/4 and 34/7 in the Tampen area of the Norwegian North Sea and first discovered in 1979, the Greater Snorre area consists of the main Snorre reservoir and two satellite fields, Vigdis and the Vigdis extension.
The trio are tied-back to a TLP, Snorre A, and a semi-submersible platform with integrated drilling, processing and accommodations, Snorre B.
Snorre received government approval for field development in 1988, with production startup in 1992. The field was upgraded in 1997 when the Vigdis satellite field came online
Snorre licence partners are Statoil 33.27556%, Petoro 30%, ExxonMobil E&P Norway 17.44596%, Idemitsu Petroleum Norge 9.6%, RWE Dea Norge 8.57108%, and Core Energy 1.1074%.
Recommended for you

Can oil ever be green? Norway turns to wind-powered drilling