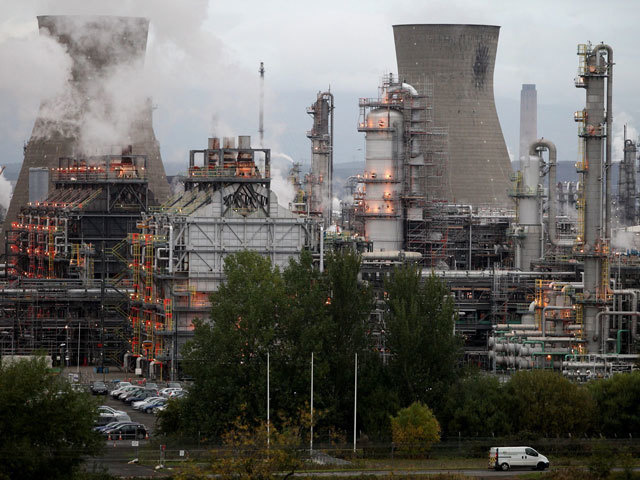 A third UK refinery shutdown in five years will put hundreds of people out of work while making only a small dent in the estimated two million barrels a day of European capacity that must go by 2020.
Murphy Oil Corp (MUR) will close the Milford Haven refinery in Wales after a sale to Klesch Group collapsed, ending a four-year search for a buyer and resulting in "significant" redundancies, the U.S. oil company said late yesterday.
European refiners have struggled to turn a profit as recession curbed demand for fuel, more efficient plants opened in Asia and the Middle East and a boom in US shale-oil output closed a major export market. That led to more than a dozen plants shutting, the biggest wave of closures since the 1980s.
"It's been a slow demise of the refining sector and is a sign of a bigger malaise in the European manufacturing sector," Stephen George, chief economist at KBC Advanced Technologies Plc, an energy consultant, said by phone.
Profit margins for turning oil into gasoline will fall to $1.30 a barrel in the last three months of the year and collapse to 10 cents in the first quarter, according to estimates by Jonathan Leitch, an analyst at Wood Mackenzie Ltd. That compares with $3.30 in the third quarter.
About 1.5 million to 2 million barrels of capacity in the region still needs to close by 2020, according to Wood Mackenzie and FGE Group. Eni SpA of Italy and Total SA of France have said they may shut capacity.
The latest shutdown leaves the UK with six operating refineries. Milford Haven was the smallest, with a processing capacity of 135,000 barrels of oil a day. Murphy Oil, based in El Dorado, Arkansas, boosted capacity by about a quarter in 2010, three years after it paid $250 million to Total for its 70 percent stake.
The company is getting out of all retail and refining in the region, Bryan Kelly, vice-president of UK operations.
Kelly met with half the plant's 400 employees this morning and will meet with the rest later today. Workers will receive 30 weeks of pay and outplacement support, he said.
"It's very disappointing what has happened at Milford Haven and we'll continue to work with the company concerned and try to find employment opportunities for all those who work there," Prime Minister David Cameron said in parliament today.
Kelly declined to comment on why the deal with Klesch collapsed. The Geneva-based company agreed to buy the Welsh refinery in July, hoping to have it producing fuels within weeks of the deal being finalized. The plant has been closed since May.
An official at Klesch's offices in London couldn't immediately comment.
Unite, the UK's largest labor union, called on the Welsh and U.K. governments to intervene to secure an alternative buyer. A plant in Scotland got government support last year after threats by the owner Ineos Group AG to shut it down.
Previous plants that shut in the UK include Teesside and Coryton, owned by Petroplus Holdings AG, which went bankrupt. Total and ConocoPhillips had sought to sell their facilities in the east of the country without success.
Recommended for you

Putin's war leaves West more reliant than ever on Asian fuel