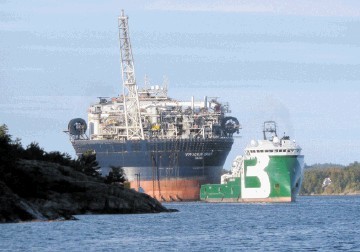 British power and gas company E.ON is considering the use of gas injection at its Huntington field after restrictions were imposed by the Central Area Transmission System (CATS).
In a monthly production update by Norwegian energy company, Noreco, it said production from the field had been reduced "significantly" as a result.
Short-term gas injection was being considered this month.
A statement said: "With a successful test, this could pave the way for higher oil production during future CATS restriction periods. Long-term mitigation most likely will involve intervention in one or more water injection wells, which could possibly be implemented mid-to-late 2015.
"Noreco is awaiting the operator's estimates on expected impact of such initiatives."
The company said production at its Nini and Cecilie fields were stable through October, with some short periods of downtime.
The Oselvar field production was reported as steady through the month.
Lulita production in October was below expectations due to water treatment issues at the Harald production platform, where the production from Lulita is processed.
In September it was announced the platform was back on line after undergoing an equipment upgrade.
The field has a long history of production problems since its start-up. It was previously shutdown in May while repair works were carried out on the floating production and storage unit which serves the project.
The North Sea field, about 200km east of Aberdeen, is expected to produce around 40,000 barrels of oil once back at peak operation.