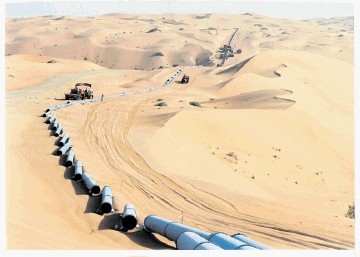 The North Sea oil and gas industry was plunged into further uncertainty last night after Saudi Arabia blocked calls from poorer members of oil producers' cartel Opec for production cuts to stop a slide in global prices.
Opec's decision not to cut output despite huge global oversupply sent benchmark crude plunging to a fresh four-year low.
Brent oil fell more than $6 to $71.25 a barrel after the meeting of Opec ministers in Vienna, which marked a major shift away from the group's long-standing policy of defending prices.
This outcome set the stage for a battle for market share between Opec and non-Opec countries, as a boom in US shale oil production and weaker economic growth in China and Europe have already sent crude prices down by about one-third since June.
"It was a great decision," Saudi Oil Minister Ali al-Naimi said as he emerged smiling after around five hours of talks.
But it was not the news the UK oil and gas industry wanted to hear, with declining production, sluggish exploration, spiralling costs and concerns about taxes and decommissioning already causing headaches.
A string of major North Sea projects have already been shelved and there are fears that more will be unviable if oil prices do not rise soon.
Matthew Ingham, upstream analyst covering Europe for market intelligence firm GlobalData, said Chevron's £6billion Rosebank oil development – planned for west of Shetland – could be among the casualties.
Rosebank partners Chevron and OMV have been working to reduce costs and already put
back a final investment decision (FID) until next year.
Mr Ingham said: "The implications of plummeting oil prices will be felt most heavily by the UK and Norway's governments, highlighting the ripple effect of petroleum production on state tax revenues.
"Although Rosebank is currently the only UK field to qualify for the large deepwater oil field allowance, further fiscal allowances may be required for the project to go ahead.
"It would not be surprising to see further delays in the FID for Rosebank and Johan Castberg (in the Barents Sea) to 2016."
But Mr Ingham said the current oil price volatility was likely to stabilise – allowing the development of Rosebank and Johan Castberg to go ahead, providing there are cost reductions and discoveries.
Rosebank, discovered in 2004, is estimated to contain as much as 240million barrels of potentially recoverable oil equivalent.