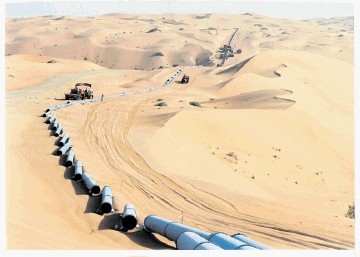 Brent extended losses from a four-year low as Saudi Arabia offered customers in Asia record discounts on its crude, bolstering speculation it's defending market share.
West Texas Intermediate dropped in New York.
Futures fell as much as 0.8% in London and are headed for a second weekly decline. State-run Saudi Arabian Oil Co. cut its differential for Arab Light sales to Asia next month to $2 a barrel below a regional benchmark, according to a company statement.
That's the lowest in at least 14 years. The kingdom doesn't want to subsidize Iran, Iraq and Venezuela and is willing to let the market decide prices, said Daniel Yergin, an energy analyst and Pulitzer Prize-winning author.
Crude slumped 18% last month as the Organization of Petroleum Exporting Countries maintained its output quota, letting prices decrease to a level that may slow U.S. production.
Saudi Arabia has no price target and will let the market decide at what level oil should trade for now, said a person familiar with its policy.
"It seems what the Saudis want, the Saudis are going to get," Phil Flynn, a senior market analyst at Price Futures Group in Chicago, said by e-mail today.
"We're going to see prices continue to be under pressure. It is still game on."
Brent for January settlement slid as much as 52 cents to $69.12 a barrel on the London-based ICE Futures Europe exchange and was at $69.32 at 3:55 p.m. Singapore time.
The contract lost 28 cents to $69.64 yesterday, the lowest close since May 2010.
The European benchmark crude traded at a premium of $2.93 to WTI, compared with $4 on November 28. Prices, down 1.2% this week, have dropped 37% this year.
WTI for January delivery fell as much as 46 cents, or 0.7%, to $66.35 a barrel in electronic trading on the New York Mercantile Exchange. It's up 0.4% this week. Total volume was about 47% below the 100-day average.
Saudi Aramco's Arab Light discount, down from 10 cents for December, is the steepest in data compiled by Bloomberg since June 2000.
Its Arab Medium grade, which Iran, Iraq and Kuwait have followed in the past, was cut to the lowest since January 2009. The state-run oil company also reduced all January price differentials for US customers, the statement showed.
"It's basically a new game in world oil," Yergin, the vice chairman of IHS Inc., an Englewood, Colorado-based consultant, said.
"The Saudis have almost $800 billion in foreign exchange reserves, so they can wait this out."
Saudi Arabia's Oil Minister Ali Al-Naimi resisted calls from OPEC members including Venezuela to cut output at a November 27 meeting in Vienna.
The group, which supplies about 40 percent of the world's oil, has maintained an official target of 30 million barrels a day since January 2012.
OPEC's 12 members pumped 30.56 million barrels a day in November, exceeding their collective quota for a sixth straight month, according to a survey of oil companies, producers and analysts.
US oil production expanded to 9.08 million barrels a day through November 28, the fastest rate in weekly records that started in January 1983, the Energy Information Administration reported this week.
An estimated 80% of shale output next year will still be profitable at $50 to $70 a barrel, Yergin said.
WTI may fall next week, a separate Bloomberg survey showed. Nineteen of 36 analysts and traders, or 53%, predict futures will decrease through December 12, while six forecast a price gain.
Recommended for you

Oil set for worst week this year as traders watch for OPEC+ move