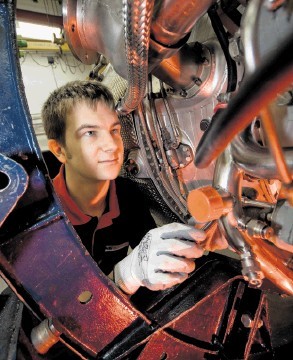 Aberdeen-based energy service giant Wood Group has a new partner in one of its joint ventures, it emerged yesterday.
German industrial-machinery giant Siemens completed the acquisition of Rolls Royce's 50% stake in Rolls Wood Group (RWG) earlier this week. The value of the deal was not disclosed.
RWG, now called RWG (Repair & Overhauls), specialises in the maintenance, repair and overhaul of industrial gas generators and power turbines.
It was formed in 1990 and is run from John Wood House in East Tullos, Aberdeen.
Announcing the stake sale to Siemens, the firm said: "RWG is a successful standalone business and will continue to operate in this manner, delivering enhanced reliability and lower lifecycle costs for equipment operators.
RWG's status as an original equipment manufacturer approved maintenance centre and authorised repair vendor is unchanged.
Managing director Keith Brady said: "Having Siemens as a partner serves to strengthen our position in core markets such as oil & gas and power generation.
"Siemens' long term commitment to energy markets and their global presence will provide future growth opportunities for RWG's services."
Meanwhile, Wood Group yesterday announced the entry to a new market for its PSN business after securing a multi-year contract in Malaysia.
Wood Group PSN and Wood Group Mustang will deliver brownfield engineering, procurement and construction management services to support ExxonMobil Exploration and Production Malaysia in its offshore operations.
Andrew Stewart, managing director for Wood Group PSN Australia and Asia Pacific said: "We are thrilled with the award of this contract, which enables us to position the company in the exciting Malaysian market."
Bob Lindsay, president of Wood Group Mustang's offshore business unit, added: "We look forward to successfully providing a leading range of operations support skills to this region."