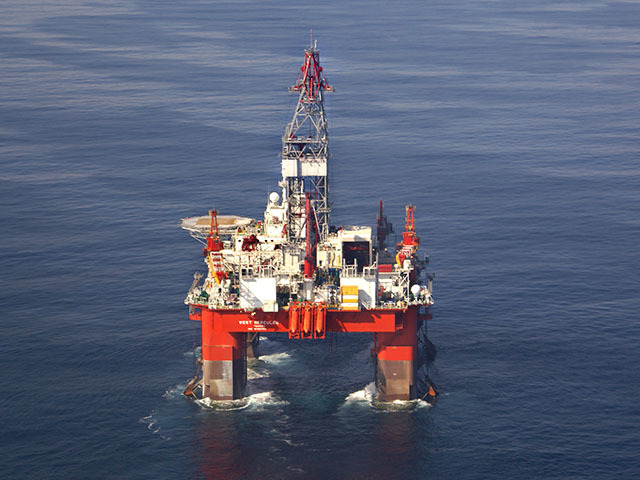 US oil drillers idled the most rigs in almost two years as they face oil trading below $60 a barrel and escalating competition from suppliers abroad.
Rigs targeting oil dropped by 29 this week to 1,546, the lowest level since June and the biggest decline since December 2012, Houston-based field services company Baker Hughes Inc. (BHI) said.
As OPEC resists calls to cut output, US producers including ConocoPhillips (COP) and Oasis Petroleum Inc. (OAS) have curbed spending. Chevron Corp. (CVX) put its annual capital spending plan on hold until next year.
Rigs targeting US oil are sliding from a record 1,609 after a $50-a-barrel drop in global prices, threatening to slow the shale-drilling boom that has propelled domestic production to the highest level in three decades.
"It's starting," Robert Mackenzie, oilfield services analyst at Iberia Capital Partners LLC, said from New Orleans.
"We knew this day was going to come. It was only a matter of time before the rig count was going to respond. The holiday is upon us and oil prices are falling through the floor."
ConocoPhillips said December 8 that would cut spending next year by about 20%.
The Houston-based company is deferring investment in North American plays including the Permian Basin of Texas and New Mexico and the Niobrara formation in Colorado.
Oasis, an exploration and production company based in Houston, said December 10 that it's cutting 2015 spending 44%.
"Our capex will be lower," Roger Jenkins, chief executive officer of Murphy Oil Corp. (MUR), an El Dorado, Arkansas-based exploration company, said during a presentation December 10. "I think this idea of lowering capex 20-something percent is going to be pretty common in the industry."
Even as producers cut budgets and lay down rigs, domestic production is surging, with the yield from new wells in shale formations including North Dakota's Bakken and Texas's Eagle Ford projected to reach records next month, Energy Information Administration data show.
Oil output climbed to 9.12 million barrels a day in the week ended December 5, the highest in EIA data going back to 1983, and is projected to increase to 9.3 million barrels a day next year.
"You still have a lot of spending that went on in 2014 that will take effect in 2015," Joe Overdevest, who helps manage about $4.4 billion at Fidelity Investments and is co-portfolio manager of its natural resources fund, told reporters in Toronto yesterday. "There's a delay in that production. It will probably take at least a year to start seeing major effects.
Oil production probably won't drop until mid-2015, James Williams, president of energy research company WTRG Economics in London, Arkansas, said by telephone. "US shale is unstoppable at $100 a barrel, but it's clearly stoppable at $60," he said.
Chevron, the largest US energy producer except for Exxon Mobil Corp. (XOM), is still evaluating its capital plans and will probably release them early next year, company spokesman Kurt Glaubitz said by phone December 9. The company usually has its budget out in mid-December.
The Organization of Petroleum Exporting Countries, responsible for about 40% of the world's oil supply, decided November 27 to maintain its collective crude output target, resisting pressure for cuts to shrink a global glut. "Why should I cut production?" Saudi Arabia oil minister Ali Al-Naimi asked December 10, while speaking to reporters as he attended United Nations global warming talks in Lima.
The international benchmark North Sea Brent oil and its US counterpart West Texas Intermediate crude are trading at their lowest levels since 2009. WTI for January delivery tumbled 3.6% yesterday to settle at $57.81 a barrel on the New York Mercantile Exchange. The 2014 peak was $107.73.
US oil rigs will fall below 1,100 for the first time in three years, bottoming out at 1,073 in August, forecasts prepared by the Louisville, Kentucky-based energy data company Genscape Inc. show.
The Permian Basin lost the most rigs this week, falling by 20 to 548. Counts rose in natural gas-rich plays such as the Marcellus in the eastern US and the Haynesville in the South.
Natural gas for January delivery increased 16.1 cents to settle at $3.795 per million British thermal units on the Nymex yesterday, down 14% in the past year. Stockpiles of the fuel dropped 51 billion cubic feet last week to 3.359 trillion, according to the EIA.
Recommended for you

Thailand needs 'shale' gas moment as energy crisis deepens on PTTEP's watch