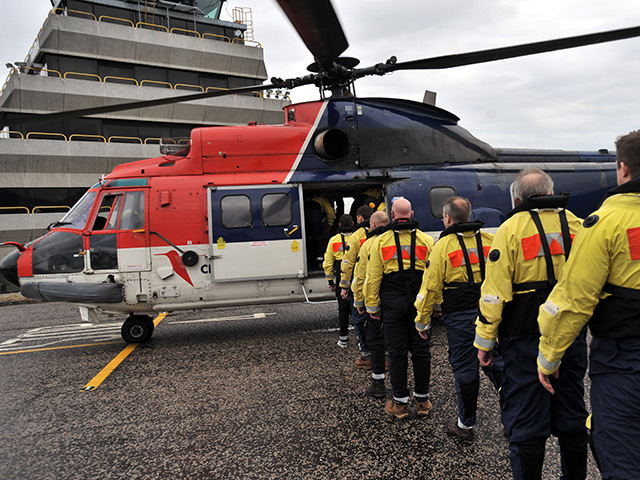 The European Court of Justice has ruled obesity can constitute a disability.
The EU's highest court was asked to rule on the case of a male childminder in Denmark who said he was sacked for being too fat.
Legal experts had warned that the move would offer crucial protection to offshore workers who fall foul of new helicopter safety legislation limiting the size of people travelling to North Sea platforms.
The court said that if obesity could hinder "full and effective participation" at work then it could count as a disability.
The ruling today is binding across the EU.
The ECJ ruled: "The Court finds that if, under given circumstances, the obesity of the worker entails a limitation which results in particular from physical, mental or psychological impairments which in interaction with various barriers may hinder the full and effective participation of that person in professional life on an equal basis with other workers, and the limitation is a long-term one, such obesity can fall within the concept of 'disability' within the meaning of the directive."
Claire-Jane Nicol, a partner in national law firm Bond Dickinson and an employment lawyer, warned that companies won't be able to fire employees because they are obese under the new law.
This could come in conflict with the Civil Aviation Authority (CAA), which has ruled that oil workers who could not fit through a helicopter's emergency window while in a survival suit will not be allowed to fly as of April next year.
Ms Nicol said: "The increasing physical profile of the offshore oil and gas workforce over the last decade is of increasing concern to the industry
"Many companies already have initiatives to encourage and assist staff to reduce weight and to live a healthy lifestyle, but this ruling will add a new dimension.
"Even in this sector, where the work can be very physically demanding, a company may not be able to sack an employee because they are obese.
"'Reasonable adjustments' might have to be introduced to assist them to carry out their duties or an alternative job might have to be offered.
"It could also lead to difficult questions about weight and fitness on recruitment and about whether the cost of making special provision for severely obese employees can be justified."