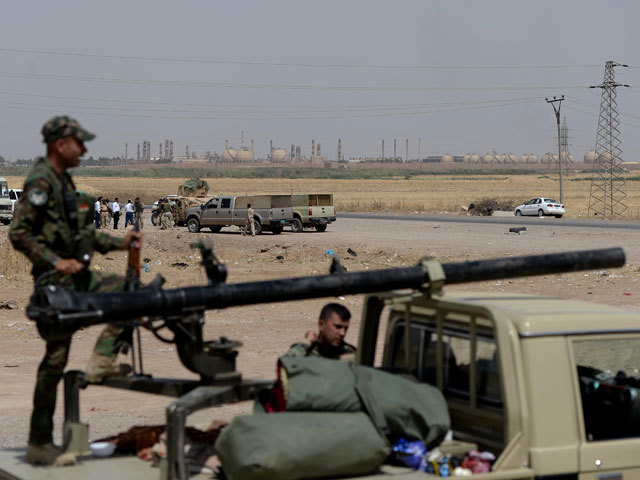 The former head of US security company Blackwater USA, Erik Prince, was hired by South Sudan to help repair damaged oil facilities and boost output cut by a year of civil war.
Prince's Frontier Services Group Ltd. (500), a Hong Kong-listed logistics and transportation company, is being paid 18.7 million euros ($23.3 million) by South Sudan's Ministry of Petroleum to transport supplies to and perform maintenance on the production facilities at the oil fields, Chief Executive Officer Gregg Smith said.
About 30 employees including pilots, engineers and logistics technicians have been using helicopters and airplanes to reach South Sudan's oil fields since September, Smith said.
"This is not supporting the army," Smith said. "The contract is clearly with the Ministry of Petroleum and Mining to support the oil field services and to make sure the production of oil keeps flowing."
South Sudan's oil output, which provides almost all the government's revenue, has fallen by at least a third to about 160,000 barrels per day since fighting erupted last December when a power struggle within the ruling Sudan People's Liberation Movement turned violent.
Petroleum Ministry spokesman Nicodemus Ajak Bior didn't return e-mails requesting comment and couldn't be reached by phone.
"We have no security contract, we have no training contract, it is purely logistic support, largely aviation based," Smith said. "Our men are not armed, our security is provided by the government of South Sudan."
Army commanders rebelled in three states, including crude-producing Unity and Upper Nile, after President Salva Kiir arrested rivals for allegedly plotting a coup.
Members of the Nuer community accused Dinka soldiers loyal to the president of targeting them.
Tens of thousands of people have died in the fighting, while almost 2 million others have fled their homes, United Nations Secretary-General Ban Ki-moon said this week.
Clashes between rebels and government forces have continued even after representatives signed a series of agreements to cease hostilities.
China National Petroleum Corp., Malaysia's Petroliam Nasional Bhd. and India's Oil & Natural Gas Corp. produce most of South Sudan's crude.
The companies evacuated some staff from the country because of the conflict.
Upper Nile is the only region still producing oil after wells were shut down last December because of the violence.
Frontier Resource Group, a private equity company also founded by Prince, in May said it had suspended plans to build an oil refinery in the country's north.
Rebels in March vowed to target oil fields still controlled by the army to starve the government of revenue.
In April they temporarily seized Unity's state capital and demanded oil companies in government-held territory leave within a week. Insurgents later withdrew from the city.
Prince ran Blackwater from 1997 to 2010, when the company earned an estimated $1 billion in US government contracts.
Now he's the chairman of Frontier Services, which is investing in Africa using cash from Asian investors including Citic Group, China's largest state-owned group of companies.
The company is looking to fill a niche in South Sudan and is one of only a few international companies willing to take the risk in Upper Nile and Unity, said Luke Patey, an oil researcher at the Danish Institute for International Studies.
"It's a pretty gutsy move," he said by phone from Copenhagen. "Rebel forces, militias, all operate in those areas and they will have a new target that is basically transporting the means to the oil fields that allows the South Sudanese government to arm itself."
A 45% slump in oil prices this year has taken its toll on South Sudan's oil-reliant economy, Patey said.
"They need to increase production to make up the gap and maybe they're willing to take these risks."
Smith said Frontier Services has had "preliminary discussions" with Chinese oil companies and their partners that are struggling because of intense fighting near their oil facilities.
"We have not agreed to do anything for them," he said. "No one has settled on anything yet because the situation up there is pretty bad."
Smith said Frontier Services hopes to progress from contracting for South Sudan's government to becoming a service provider as companies return to full production.
Chinese and Malaysian oil companies may be open to Frontier's help now, Patey said. That may not be the case once fighting ends, he said.
"Post-conflict they may be somewhat wary of letting someone into their terrain, into their market," he said.
"CNPC is dominating oil services and construction in South Sudan and they would be sceptical of allowing any new player to take a sizable chunk of that part of the market."