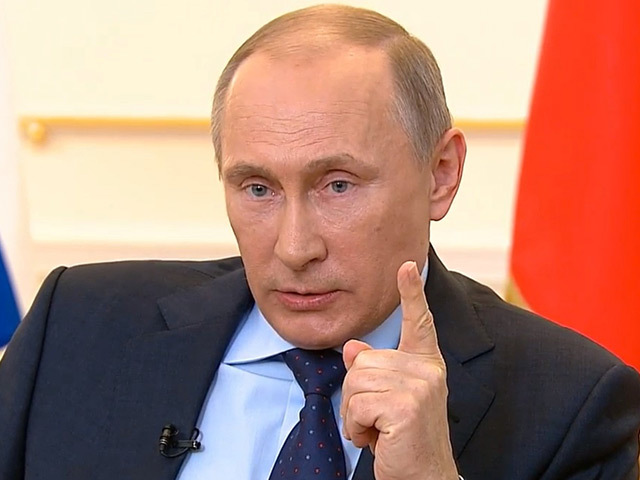 The Russian economy must adapt to the reality of oil prices that could fall as low as $40 a barrel, President Vladimir Putin said as he faces the worst financial crisis since coming to power in 2000.
"I don't know how quickly it will happen if prices stay at today's level, or if they will drop lower than $60, $40," Putin said today at his annual press conference in Moscow. "The economy will structure itself accordingly, however much is necessary."
The US and Saudi Arabia, which with Russia are the world's three biggest crude producers, may be colluding to push down the price of oil, Putin said.
The collapse of prices, which are down more than 40% this year, may also be due to a battle for market share between traditional producers and shale-oil companies, he said.
Oil is heading for its biggest annual loss since the global financial crisis of 2008, with the highest US production in three decades exacerbating a glut as global demand growth slows.
Russia, which depends on oil and gas for half of its budget, is facing its biggest financial crisis since it defaulted on domestic loans in 1998.
Brent crude is down 43% this year and was trading at $62.79 a barrel.
It plunged about 20% since the Organization of Petroleum Exporting Countries decided November 27 to keep its production target unchanged at 30 million barrels a day, ignoring calls from members including Venezuela to curb output to tackle the surplus.
OPEC's decision to maintain output fanned speculation that Saudi Arabia and other members want North American shale drillers and other producers outside the group to be the first to cut production because of falling prices.
Saudi Arabia and OPEC would find it "difficult, if not impossible" to give up market share, the country's oil minister Ali Al-Naimi said today, according to comments published by the Saudi Press Agency.
He reiterated the country's intention to maintain output amid plunging prices.
The US pumped 9.14 million barrels a day in the period ended December 12, the most in weekly Energy Information Administration data that started in 1983. The gain came as horizontal drilling and hydraulic fracturing unlocked supplies from shale formations including the Eagle Ford in Texas and the Bakken in North Dakota.
"If the price level remains low, companies will stop investing in hard-to-recover reserves and new fields," Putin said. "Given a backdrop of growth in the world economy, it will eventually jump, and this will be bad even for developed countries."