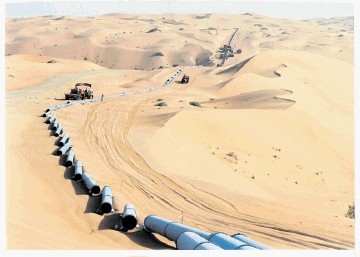 The world's top oil producer said yesterday it had no intention of cutting output to prop up oil prices.
Saudi Arabia also blamed commodity market speculators for driving down the price of a barrel of crude to its lowest level in years.
Ali Al-Naimi, the Middle East country's oil minister, said he was "100% not pleased" with prices but they would improve, although it was unclear when.
The comments came at the 10th Arab Energy Conference in Abu Dhabi as the global oil and gas industry grapples with a plunge in oil prices to about $62 per barrel from well over $100 in the summer.
Energy companies around the world are being forced to rethink their spending and production plans for 2015.
Oil majors BP, Shell and Chevron are shedding hundreds of jobs in their North Sea operations, and there are fears that major UK developments such as Chevron's £6billion Rosebank project may not go ahead.
The UK Government has already pledged to further reduce the industry's supplementary corporation tax on profits following the reduction to 30%, from 32% previously, announced in Chancellor George Osborne's Autumn Statement.
Westminster is reportedly now looking to scrap the supplementary charge altogether, which would cut the overall tax burden by half.
New Scottish Labour leader Jim Murphy and Shadow Chancellor Ed Balls have, in a statement also signed by Aberdeen City Council leader Jenny Laing, urged Mr Osborne to act more swiftly to help an industry which one expert – Robin Allan, chairman of independent explorers' association Brindex – has claimed is "close to collapse".
Other experts insist the offshore sector can adapt, although Aberdeen University petroleum economist Alex Kemp warned the price of a barrel of crude could drop further and take two or three years to get back above $80 again.
Another leading economist, Anatole Kaletsky, believes prices could slump as low as $20 because "technological and environmental pressures are reducing long-term oil demand and threatening to turn much of the high-cost oil outside the Middle East into a stranded asset similar to the earth's vast unwanted coal reserves."
Mr Kaletsky added: "Additional pressures for low oil prices in the long term include the possible lifting of sanctions on Iran and Russia and the ending of civil wars in Iraq and Libya, which between them would release additional oil reserves bigger than Saudi Arabia's on to the world markets."
Opec's refusal to cut production at its November meeting was widely seen as the declaration of a price war against the US and its buoyant shale oil industry
Saudi Arabia has watched its market share drop in the US, the world's biggest oil-consuming nation, in the run-up to Opec ditching its long-standing policy of defending prices.
Other Opec members, including Iran, want higher oil prices to relieve pressure on their economies but they carry less clout.
Iran oil Minister Bijan Zangeneh said recently the continuing oil price slide was a "political conspiracy", while Qatar has described it as a "temporary correction".
Yesterday, United Arab Emirates' oil minister Suhail Bin Mohammed al-Mazroui said "irresponsible production of some producers from outside Opec" was a key factor in the slump.
Recommended for you

Guide: The polluting countries that could derail COP26 climate talks