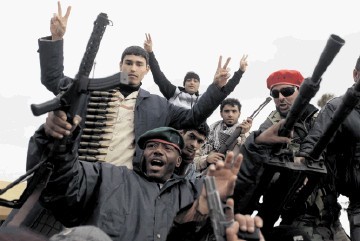 The force defending oil ports in eastern Libya pushed back an onslaught that Islamist militias had started 11 days ago to capture the facilities.
"We pushed them back and it's we who are now attacking them," Ali al-Hasy, a spokesman of the Petroleum Facilities Guard, said by phone from Es Sider, Libya's largest oil port.
"The oil ports are safe and they suffered no damage. All the fighting took place well outside the ports."
The Tripoli-based Libyan News Agency today reported the death of Tareq Shnena, the commander of the Islamist force tasked with capturing the eastern oil ports.
He succumbed to wounds sustained in the fighting near Es Sider, it said, without saying where it got the information.
State-run National Oil Corp. on December 13 declared force majeure in Es Sider and the neighboring Ras Lanuf oil port, Libya's third-largest.
The move came after the Islamist-backed, self-proclaimed government of Omar al-Hassi ordered an attack to wrest eastern export terminals from the control of its rival, the internationally-recognized government of Abdullah al-Thinni that has control over the Petroleum Facilities Guard.
Force majeure is a legal clause that protects a company from liability when it can't fulfill a contract for reasons beyond its control.
The fighting caused crude output to decline below Libya's own consumption, National Oil said two days ago, without giving an estimate of the North African nation's production.
Sitting on Africa's largest crude reserves, Libya was producing about 350,000 barrels a day on December 15, according to two people with knowledge of upstream oil operations.
This level makes it the smallest producer of the 12-member Organization of Petroleum Exporting Countries.
The country was producing about 1.6 million barrels a day before the 2011 rebellion that ended Muammar Qaddafi's 42-year rule.
It had a consumption of 239,000 barrels a day last year, according to the U.S. Energy Information Administration.
Thinni's government sought refuge in the country's eastern region after Islamist militias took over Tripoli five months ago.
The front line is now near Bin Jawad, 35 kilometers (22 miles) west of Es Sider, the Petroleum Facilities Guard's al-Hasy said.
"We hope to be able to announce that we have completely defeated their attack in the next 48 hours," he said.
Libya has nine oil ports, with Jurf and Bouri offshore and relatively immune to the infighting. Those in Mellitah, Hariga and Brega are open while loadings are halted at Zawiya and Zueitina because of protests and fighting at oil fields upstream, NOC said yesterday.
Recommended for you

Tripoli takes Greece to task over minister who wouldn't budge