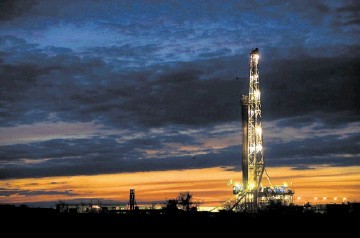 Billionaire Harold Hamm, whose early adoption of shale drilling in North Dakota helped usher in a US energy renaissance, plans to cut spending by 41% at his company after the plunge in oil prices.
Continental Resources Inc. and other US producers can adjust quickly to the crude collapse and will be able to withstand the downturn better than many producing countries, which face economic "ruin," Hamm said in an interview.
"The oil and gas industry has lowered the cost of gasoline to consumers in this country," Hamm, chairman and chief executive officer of Continental, said yesterday.
"It's been good for America, this increase in supplies that we have here. We don't want to see it all go for naught."
Continental (CLR) and rivals including ConocoPhillips and Apache Corp. plan to trim spending and move rigs to more profitable areas while prices remain under pressure.
Crude has fallen by almost 50% since June to a five-year low as demand forecasts fell amid a glut in supply fed in part by the shale revolution.
Saudi Arabia and OPEC allies have declined to cut output to stave off price declines. US prices are expected to average $63 a barrel in 2015, according to the US Energy Information Administration.
US producers have trimmed billions from 2015 spending plans as the price decline eroded potential profits from drilling in shale rock, a technological breakthrough that helped boost production to the highest level in almost 30 years.
Spending at Oklahoma City-based Continental will fall to $2.7 billion and the company will increase production by as much as 20% next year.
That's a decline from a previous growth forecast of as much as 29%, the company yesterday said in a statement.
"We're a company that's not out over its skis with people or commitments," said Hamm, the chairman and chief executive officer of Continental.
"We've been through about half a dozen of these in my lifetime. We can do it."
The cut comes six weeks after Hamm said he liquidated the company's oil hedges because the price slump was going to be a temporary.
Continental will average about 31 rigs in 2015, down from 50, and will drill an estimated 188 wells in the Bakken formation and about 81 wells in the south central Oklahoma formation.
In the Bakken, about 70% of rigs aren't profitable with oil prices at $60 a barrel, according to a note to investors today from ITG Investment Research.
In the past two years, producers have needed an average of $57 a barrel while drilling in south central Oklahoma to make a 10% profit, according to ITG.
Hamm's wealth, which is tied closely to the shares of Oklahoma City-based Continental, has fallen by $5.7 billion this year, according to the Bloomberg Billionaires Index.
Prices will recover quickly and many US shale drillers will fare better than producing countries such as Russia and Venezuela, Hamm said.
Reducing spending is important for producers who don't want to extract too much of their oil and gas reserves while prices are low, he said.
Recommended for you

Thailand needs 'shale' gas moment as energy crisis deepens on PTTEP's watch