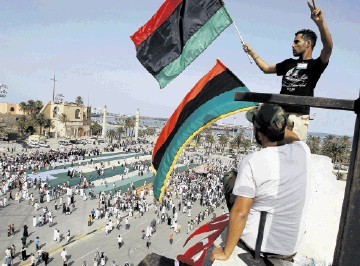 Libya extinguished fires at three of five oil-storage tanks that started last week at its largest oil port, helping global crude prices to stabilize.
Libya is still seeking international assistance because of possible environmental damage, said Ali al-Hasy, a spokesman for the Petroleum Facilities Guard, part of the internationally-recognized government of Prime Minister Abdullah al-Thinni.
Es Sider has tanks with a capacity of 6.2 million barrels of oil, compared with current Libyan output of 352,000 barrels, according to National Oil Corp.
Shipments from Es Sider and the neighboring Ras Lanuf oil port, Libya's third-largest facility, halted earlier this month after the self-proclaimed, Islamist-backed government of Omar al-Hassi ordered the capture of export terminals controlled by al-Thinni's government.
Production has fallen this month, according to the state-run National Oil Corp.
"The longer the conflict continues, the less likely a quick and full recovery of crude production looks plausible, as international partners will shy away from investing into the country," JBC Energy GmbH, a Vienna-based researcher, said.
The fires at Es Sider started on December 25 when Islamist militias shot rockets at the port in a second attempt to capture it, after one on December 13.
The export terminal houses a total of 21 storage tanks, the Libya Herald newspaper said.
Brent crude traded at $59.78 a barrel on the London-based ICE Futures Europe exchange at 10:39 a.m. local time. Prices dropped 46% this year.
Sitting on Africa's largest crude reserves, Libya has been pumping at less than its capacity since the 2011 rebellion that ended Muammar Qaddafi's 42-year rule.
Libya's oil production was 580,000 barrels a day in November, down from 1.59 million barrels a day at end of 2010, according to data.
The recent spate of fighting has caused output to drop to 352,000 barrels a day, Mohamed Elharari, a spokesman for National Oil Corp., said last week.
Recommended for you

An oil rebound in Libya rests on shaky political foundations